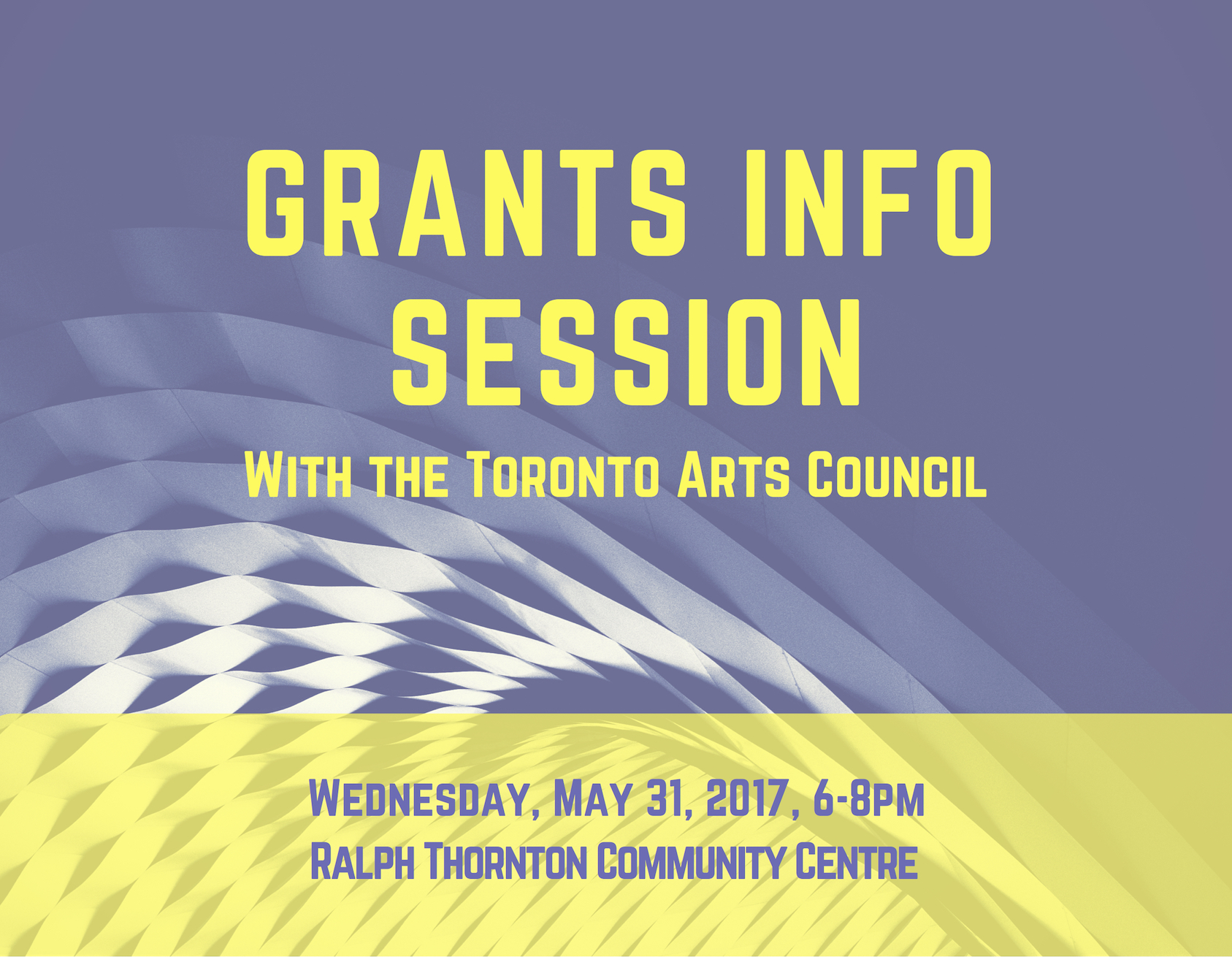 Grants Info Session
with Toronto Arts Council
Wednesday, May 31, 2017, 6-8pm
Ralph Thornton Community Centre, 765 Queen Street East, 2nd Floor, Toronto
FREE! Registration is now full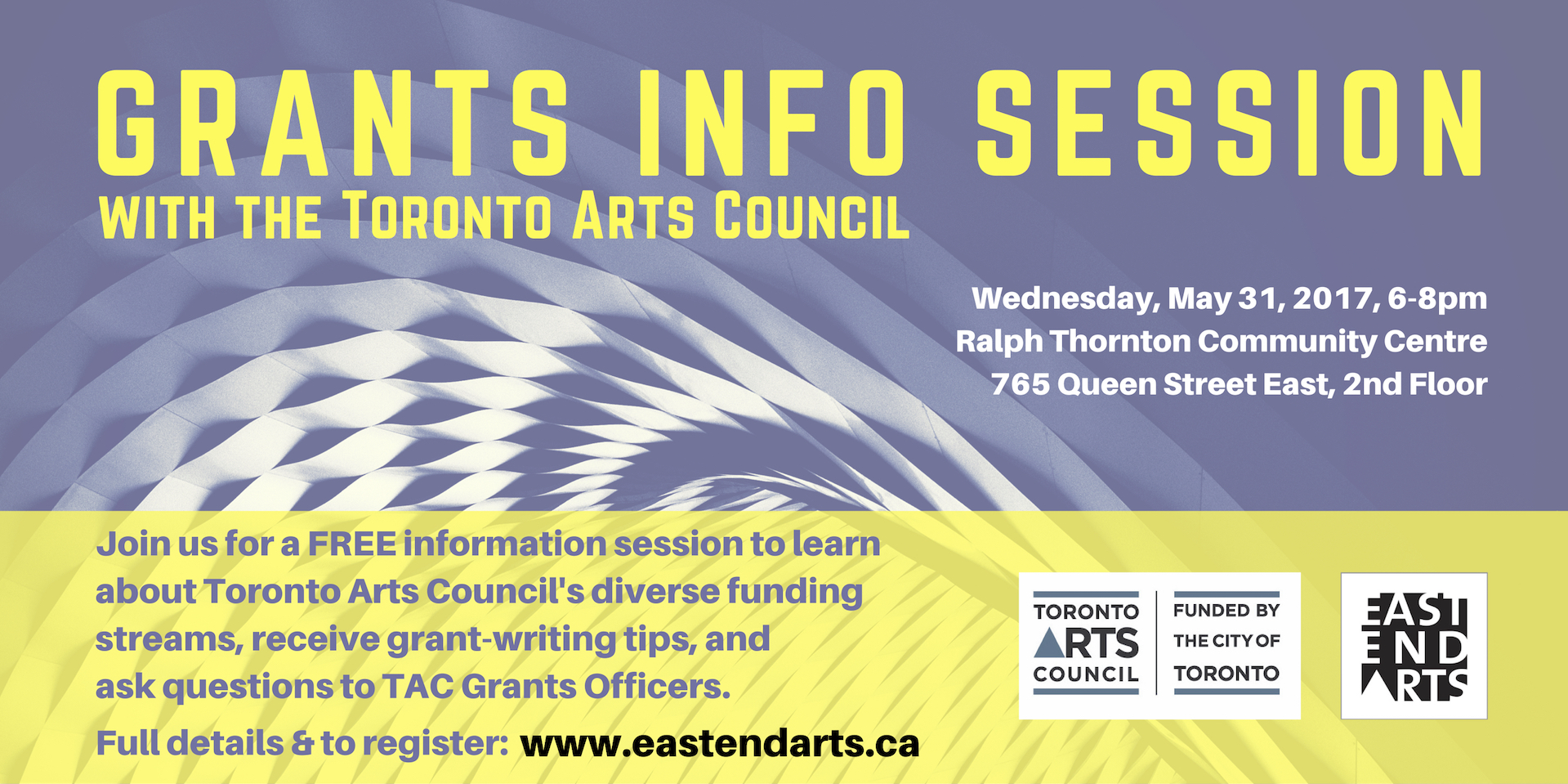 Attend a free information session to learn about funding opportunities through the Toronto Arts Council, led by Rupal Shah, Grants Officer, Strategic Programs, and Peter Kingstone, Acting Visual/Media Arts Officer at Toronto Arts Council.
Whether you are a seasoned grant writer or are exploring funding opportunities for the first time, this session will introduce you to the Toronto Arts Council's diverse funding streams and help prepare you for your next grant submission.
Toronto Arts Council provides grants to outstanding artists and arts organizations that contribute to the cultural life of the City of Toronto. Supporting the city's artists and arts organizations through an established and effective granting program has been Toronto Arts Council's core business since 1974.
Through its support, Toronto Arts Council cultivates a richer engagement between artists and audiences and reflects the City of Toronto through the diversity of artists, arts communities, and audiences that it serves. The City of Toronto provides the funding for Toronto Arts Council grant programs through its Community Partnership and Investment Program.
---
Toronto Arts Council has two main streams of funding – Discipline-Specific programs, and Strategic Funding programs. In this information session, you will receive an introduction to how Toronto Arts Council works, an overview of the grants programs, grant-writing tips, and you will also be able to ask questions to Toronto Arts Council Grants Officers.
Click HERE to see a list of upcoming Toronto Arts Council grant deadlines.
Discipline-specific programs provide assistance for ongoing operations or for specific projects, and include: Community Arts, Dance, Indigenous Arts, Literary, Music, Theatre, and Visual and Media Arts.
Project grant programs provide one-time funding for time-limited projects. Project funding is available to eligible arts organizations and collectives and to eligible individual artists.
Operating grant programs provide support to non-profit arts organizations (incorporated and unincorporated) for their ongoing activities. The funding contributes to both the artistic and administrative costs associated with the organization's operations. Operating programs are offered on an Annual cycle, where the assessment determines the grant allocation for the organization's next fiscal year, and on a Multi-Year cycle, where the assessment determines the grant allocation for the organization's next three fiscal years. The Multi-Year Operating cycle is only open to applications once every three years.
Strategic Funding Programs include a number of new programs that were created in response to specific needs such as: access to arts space, network and community building through the arts, and leadership training.
Strategic Funding programs include: Animating Toronto Parks, Animating Historic Sites, Artists in the Library, Open Door Funding, Newcomers and Refugees, and TAC Leaders Lab.
The objectives of these programs are to encourage collaboration between artists and institutions, provide access to space for arts programming, offer opportunities for arts activities outside the downtown core, and to provide leadership opportunities for arts workers.
These new programs are a result of key partnerships that allow Toronto Arts Council to leverage arts funding with matching funds or in-kind resources. Toronto Arts Council's partnership programs create new opportunities for artists and audiences at the local level, enhance assets that are already available within the community, and build on Toronto's vibrant arts ecology.
---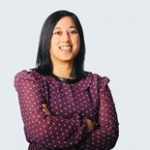 Rupal Shah, Grants Officer, Strategic Programs at Toronto Arts Council brings over 14 years of experience in the arts and culture sector, working with organizations such as Summerworks Performance Festival, Nightswimming Theatre, DVxT Theatre, and Obsidian Theatre. She was a member of the Canadian delegation to the 2015 IETM Plenary (international network for contemporary performing arts) in Italy and is a member of the George Cedric Metcalf Foundation's Advisory Committee for the Creative Strategies Incubator.
---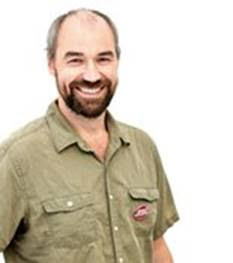 Peter Kingstone is a Toronto-based visual artist and curator, working primarily in video and photography. As an independent artist, Peter's installation pieces have been shown across Canada and internationally, and he was awarded the Untitled Artist Award in 2005 for his installation The Strange Case of peter K. (1974-2004). Peter holds a degree in Philosophy/Cultural Studies from Trent University in Peterborough and a Masters of Fine Art focussing on video and new media from York University in Toronto. Peter has presented at many conferences on the ideas around storytelling and social engagement. Peter started in September 2012 as the Acting Visual/Media Arts Officer at Toronto Arts Council.
---
Thank you for your interest in this event. Registration is now closed. 
---
East End Arts strives to make our programming as accessible and inclusive as possible. If there are any accommodations that you need for this event, please email info@eastendarts.ca – we will do our best to meet your needs.