This month we invited Adam Garnet Jones, the lead artist of our program BYOBeads, to share some of his thoughts around the importance of 'keeping Indigenous beadwork alive and in the public realm'. We love what he had to share with us! Please read below to check out our October #EEABlog guest post.
I was initially invited to write here about the importance of keeping Indigenous beadwork alive and in the public realm. The prompt was fine as a start, so I agreed. I figured I would write about the way that my online beading circle has become a vital pandemic support, but when I sat down to write, I realized that the prompt itself was sitting uncomfortably me for a couple of important reasons.  Firstly, the idea of keeping beadwork alive suggests that it's somehow endangered, in much the same way that Indigenous people are often spoken about as "vanishing" and our languages and histories as "lost." To talk about us in this way is to make us smaller, to focus on weakness and to position us as powerless. There's a long gross history behind the construction of the vanishing Indian, and I get it – it's hard not to invite him into the room sometimes. He's very persistent and (if Kent Monkman's work is any indication) he's pretty sexy too.
But the real truth, as anyone with an Instagram account can see (#native beadwork #nativebling #nativeflorals) is that not only is beadwork as an art form thriving, we're actually in the middle of an g-damn Indigenous beadwork renaissance. Truly. We've got artists making traditional beadwork for regalia, for use in ceremony, for going out to buy smokes, and for stepping out on the powwow circuit. We've always done those things, but now we're also in contemporary galleries and museums, we're on high-fashion runways, magazines and red carpets. And as Indigenous beadwork has had increased in visibility in new spaces, beadworkers have felt empowered to use beadwork as a canvas for activism and as a way for the wearer to make themselves more visible as Indigenous people and allies. I've know a lot of Indigenous people who feel that wearing beadwork can be simultaneously a way of feeling gorgeous, celebrating their culture, and armouring themselves for a world that is often hostile to Indigenous people.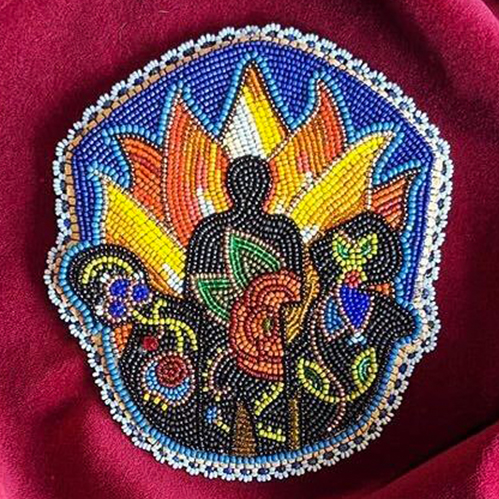 Since beadwork is such a time-consuming process, and since many beaded pieces were originally made for specific people for ceremony and gatherings, the practice of beadwork is wrapped up with culture, history, beauty, design, and spirit in a way that is unique to the form. As a result, a lot of beaders speak about the idea of beadwork as medicine. In my own work, I'm often making commissioned pieces that have deep meaning for the person who is meant to wear them. I spend many hours thinking of the wearer, working prayers and good thoughts in support of the work that they do with every stitch I make. The repetitive action of beadwork is meditative, and since the hours spent on the work far outweighs the money made on the enterprise, I like to think of creating beadwork as providing a kind of community service. It's a way for me to connect with my own history, and through my beading circle, it's a way to build community. It's a way to bring beauty, honour, and celebration to the people who ask me to make things for them, creating an object that might become a future heirloom. It's a way to celebrating our collective resilience and the fact that we are #notvanishing.
I encourage you all to check out the incredible world of beadwork from the coziness of your homes. Click on the links below to see how Indigenous beadworkers are:
*Images featured are of beadwork by Adam Garnet Jones