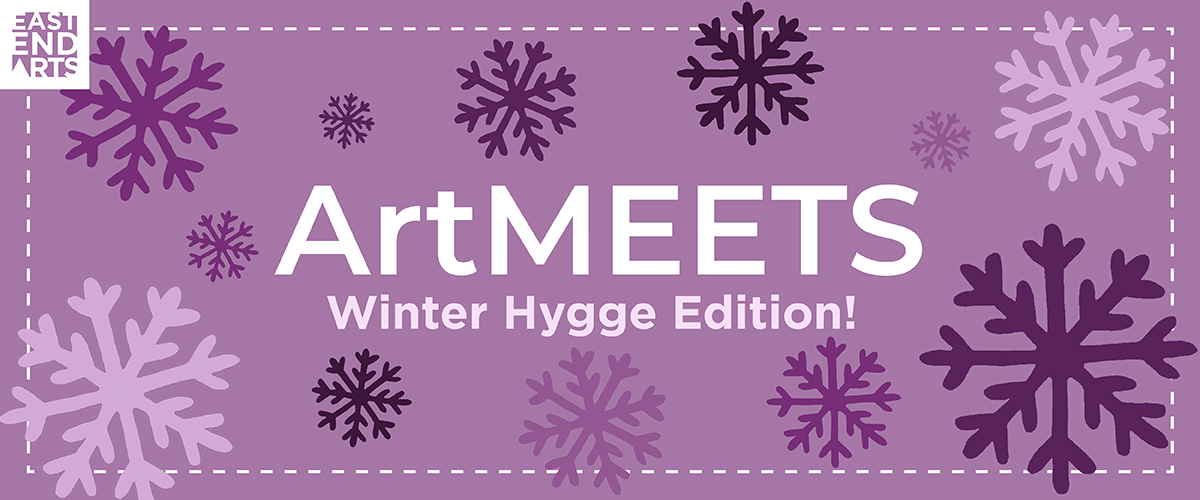 We're bringing ArtMEETS back for its sixth year! There are four workshops in total, all held online on Saturdays in February, 2023. Scroll down to learn more!
ArtMEETS: Hygge Edition
Saturdays from February 4th – 25th, 2023
Time: 1-4 pm
ONLINE via Zoom
Cost: PWYC

It's back again – East End Arts is thrilled to announce that ArtMEETS is back this winter for its sixth year! Four workshops, all PWYC (Pay What You Can), and all about getting creative and beating the winter blues. ArtMEETS workshops are led by talented, engaging, and supportive artist facilitators, and each workshop is an opportunity for adults to learn a new art skill, meet new people, and let your creative side shine! Our hygge edition workshops are focused on getting cozy and crafty at home with simple supplies and tools. Workshops run on Saturday afternoons in February (four workshops total) from 1-4pm, online via Zoom. We are accepting a maximum of 20 participants per workshop, so register early for those that interest you!
COST & REFUNDS
In order to continue to support the ArtMEETS program and pay its facilitators a fair CARFAC rate, as well as to offset the cost of high quality art supplies provided to participants for each workshop, each ArtMEETS workshop is PWYC, with a suggested payment of  $10-$40 per person (on a sliding scale of Pay What You Can). Payment is to be made online at the time of registration, which will be done via Eventbrite. Payments through Eventbrite can be made with any major credit card, or through PayPal. If you would like assistance through the payment process, please contact East End Arts at info@eastendarts.ca.
If you are not able to attend an ArtMEETS workshop that you've registered for, please let us know as soon as possible and we will be happy to issue you a refund, or offer you a spot at an upcoming ArtMEETS workshop, if and where possible. You may also feel free to transfer your ticket to a friend! If you're transferring your spot to another person, be sure to email them your ticket or hand it to them personally, and let East End Arts know in advance.
PLEASE NOTE: If you require financial assistance, please contact EEA's Office Coordinator Tyler, at tyler@eastendarts.ca. Nobody will be denied participation due to lack of funds.
ART SUPPLIES PICKUP 
Please note that we will be offering art supplies for pickup at St. Matthew's Clubhouse for those who register for our ArtMEETS: Hygge workshops!
Pickup Location: 450 Broadview Avenue, St. Matthew's Clubhouse.
Pickup Dates & Times:

Saturday January 28th, 9am to 12pm
Monday January 30th, 10am to 2pm
Wednesday February 1st, 4pm to 7pm
Saturday February 4th, 9am to 12pm
Monday February 6th, 10am to 2pm
Wednesday February 8th, 4pm to 7pm
Saturday February 11th, 9am to 12pm
Monday February 13th, 10am to 2pm
Wednesday February 15th, 4pm to 7pm
Saturday February 18th, 9am to 12pm
*Tuesday February 21st (due to family day holiday), 10am to 2pm
Wednesday February 22nd, 4pm to 7pm
Please let us know if you are unable to come pick up your art supplies and we will ensure that they get to you.
REGISTRATION
Registration for ArtMEETS: Hygge Edition workshops will open as of Thursday December 15th, 2023. Capacity for each workshop is 20 participants, so register early, or buy someone special a ticket to an upcoming workshop as a gift!
To register for an upcoming ArtMEETS workshop, please click on the individual workshop that you are interested in attending below!
ArtMEETS 2023 HYGGE WORKSHOPS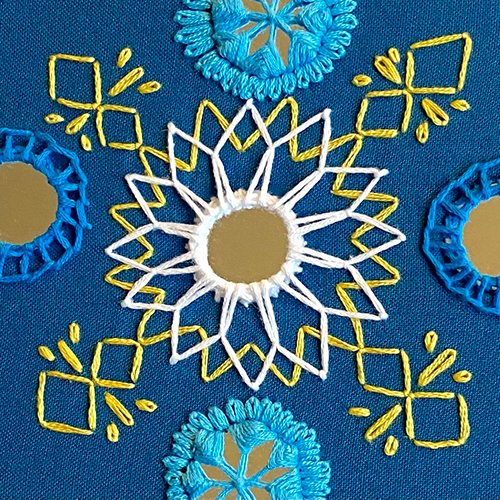 ArtMEETS: Embroidery Hoop Art
Facilitator: Khadija Aziz
Saturday February 4th | 1-4pm
PWYC, suggested $10-$40
Learn how to Embroider the Basics
Stitch your own garden on fabric! Learn to create embroidery hoop art with techniques like the straight stitch, chain stitch, French knots, fishbone leaf stitch, rose stitch. These stitches can be used to embellish your garments, in mending projects, or in stand-alone art projects. This workshop is beginner-friendly.
Learn more here & register here!
About Khadija: Khadija Aziz (she/her) is a textile and digital artist, and an arts educator. Her work is a culmination of ongoing play with patterns, materials, and processes. She marries slow textile-making techniques and tools with spontaneous digital manipulation methods to create digital images, GIFs, installations, and Augmented Reality experiences. Learn more HERE.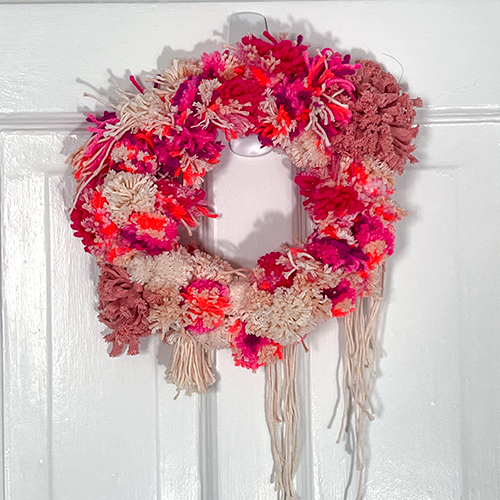 ArtMEETS: Spring Pom Pom Wreath
Facilitator: Carmina Miana
Saturday February 11th, 2023 | 1-4pm
PWYC, suggested $10-$40
Pom Pom Wreath and Meditation
Through this workshop we will make several pom poms using the legs of furniture! This process is not just about speed or being DIY – we will mindfully create together. There are several opportunities for quiet reflection, mindful breathing and awareness of our bodies as we create pom poms. 
Learn more here & register here!
About Carmina: Carmina Miana (she/her) is a Toronto-based interdisciplinary artist that synthesizes digital and analog techniques in image-making. She is deeply interested in utilizing craft processes to critique female labour and duty. Her current work involves stop motion animations with textiles and fibre — implementing contemplative tactile craft processes such as pompoms, cross stitching, tapestry, natural dyeing and needle felting. Learn more HERE.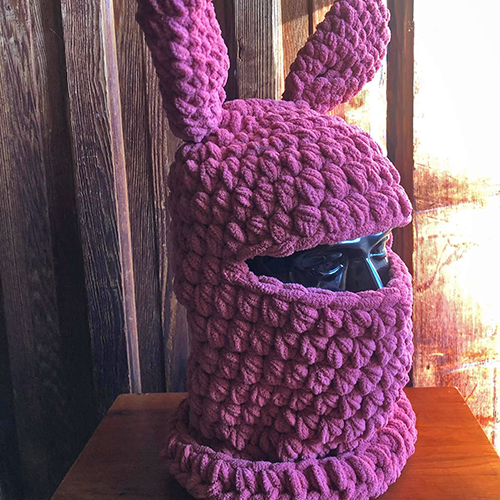 ArtMEETS: Crochet 101
Facilitator: Chason Yeboah-Brown
Saturday February 18th, 2023 | 1-4pm
PWYC, suggested $10-$40
Learn the Basics of Crochet
This workshop is designed to teach you everything you need to know to begin your crochet journey! Participants will engage in a 2 hour virtual workshop where not only will they learn the basics of crochet, but ultimately leave with the skills to create their very own toque and also learn the meditative benefits of this ancient craft.
Learn more here & register here!
About Chason: Chason Yeboah-Brown is a Ghanaian-Triniadadian Toronto-based textile sculptor, community workshop facilitator, early childhood educator and doula. Having over ten years experience working with youth, families and different communities, Chason's work stands at the crossroads of art, education, and collective healing.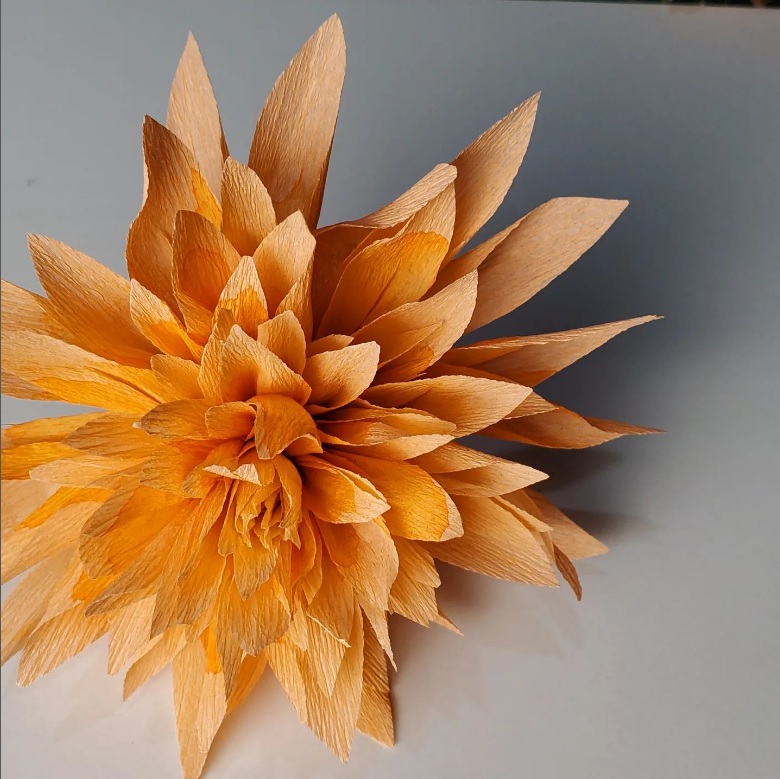 ArtMEETS: Paper Flowers
Facilitator: Nancy Lalicon
Saturday February 25th, 2023 | 1-4pm
PWYC, suggested $10-$40
Spring Flowers are Blooming
It may be cold outside 'cause it's winter and nature is in hibernation, but we can conjure some spring warmth and joy with creating paper flowers. Join Nancy Lalicon for an afternoon workshop making crepe paper Dahlias and foliage to go with it! All skills levels are welcome. We will use alcohol inks to stain the paper then shape it into petals, leaves and calyxes. Each participant will be provided enough paper and materials to make one flower during the online session and two more at their own leisure.
Learn more here & register here!
About Nancy: Nancy Lalicon is a first generation Filipino-Canadian Visual Artist who received her MFA from Concordia University, and studied at Emily Carr College of Art and University of Victoria. Just before the global COVID pandemic Nancy Lalicon began making paper flowers for an International Women's Day event and since then has continued to enjoy the challenge of replicating real flowers, and sharing her passion through workshops across Toronto. Learn more HERE.
TECHNICAL REQUIREMENTS
In order to participate fully, and to allow for the highest level of connectivity during these online arts workshops, you will need to have the following:
Laptop or desktop computer. Our online ArtMEETS workshops are best enjoyed on a desktop or laptop computer (or a tablet or Ipad that has a keyboard attachment). A device with a larger screen will enable you to better see and engage with the workshop content, as well as with the other participants. It is also easier to communicate if you have a physical keyboard.
Zoom Desktop Client. Be sure that you have the latest Zoom desktop client installed in order to fully participate in all of the activities. Download Zoom: zoom.us/download
Zoom account. Create an account for yourself with Zoom if you do not already have one.
Webcam, speakers, and microphone. Mostly likely your device has these elements built in and ready to use. Make sure that they are working properly on your device and on Zoom.
WiFi. When possible, connect to the internet with a physical cable connection, not just Wi-Fi. This will give you much greater speed and service.
Power Source. Make sure that your device has power for the duration of the workshop.
ACCESSIBILITY
If you require ASL or other accessibility accommodations to participate in ArtMEETS: Hygge Edition, please contact Tyler on our team at tyler@eastendarts.ca prior to January 21, 2023, and we will do our best to make arrangements for your accessibility needs. Unfortunately, this workshop series will not be made available online with subtitles following the event, in order to protect the privacy of the participants.