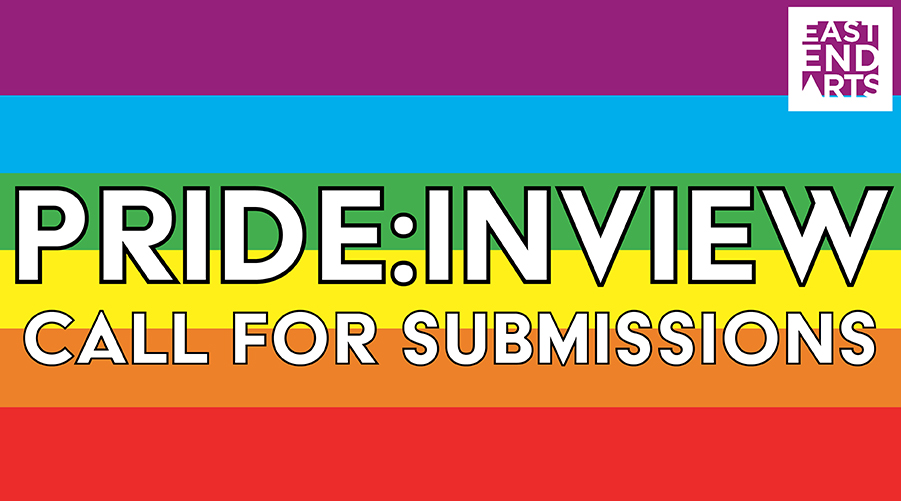 East End Arts and the Leslieville BIA are excited to announce Pride:InView, a series of storefront gallery exhibitions as a part of the inaugural Leslieville Pride Celebration. The deadline for submissions is Monday April 20, 2020 at 11:59 PM EST.
ABOUT PRIDE:INVIEW
East End Arts and The Leslieville BIA seek submissions from LGBTQ+ artists for a series of storefront gallery exhibitions titled "Pride:InView". Works will be featured in storefronts within the Leslieville neighbourhood as part of Leslieville Pride (full details to be announced closer to June), and will provide an opportunity for artists from one of Toronto's many diverse Queer neighbourhoods to exhibit work outside of The Village during Pride Month, (June, 2020).
Each Pride:InView artist or collective will be matched with a local Leslieville business to create a storefront display exploring the idea of 'Queer Domesticity', celebrating the many Queer families who call Leslieville home.
EXHIBIT THEMES
The theme of the Pride:InView exhibits will be "Queer Family", inviting artists to explore iconography of familial moments and domestic scenes through a Queer lens. The thread of chosen family runs throughout the LGBTQ+ tapestry, and even more so as we find ourselves raising children, getting married, and enjoying the place in society fought for by generations of activists. By presenting artistic representations of this Queer domestic life in the public realm, we will invite the cis-het public into the inner world of Queer Families; we will lift up examples of Queer families into the public realm as representative icons so that we, and our children, can see ourselves reflected in the storefront windows of our communities.
SELECTION PROCESS
We invite submissions from Queer identified-artists, but will give priority to those who live within our catchment (Toronto Wards 14 & 19). A Queer selection committee will choose the final participants, and East End Arts, in collaboration with local Leslieville businesses, will mount selected projects at up to 10 storefront galleries within The Leslieville BIA (Queen Street East).
East End Arts strives to provide a living wage to all artists, and as such fees are as close as possible to CARFAC recommended rates within the limited means of a small community arts organization.  As such, proposed work can be new, or repurposed existing bodies of work that fit the theme of the proposed project. In this case, all artists will receive a $400 artist fee and a $100 materials/prep fee, for a total of $500/storefront window installation.  
IMPORTANT DATES
The Pride:InView deadline is April 20, 2020.
All Pride:InView exhibits will be installed June 13-15, 2020 and run for the remainder of the month of June 2020.
All Pride:InView exhibits will need to be dismantled on June 30, 2020.
Artists interested in meeting with East End Arts Programming Coordinator, Adam Barrett, to discuss proposals and receive pre-submission feedback, should email adam@eastendarts.ca. Note that meetings will tentatively take place April 1-3, 2020.
Selected artists will be notified by May 1, 2020, at the latest.
TO APPLY
Thank you for your interest in Pride:InView! To apply, please email one single PDF document, which includes your answers and all support material, to submissions@eastendarts.ca, with the following information:
Name of Artist or Collective:
Postal Code:

Website:
Social Links:

Do you Identify as a member of the LGBTQ+ community?


(max 50 words)



What does Chosen Family mean to you?

(max 200 words)



How does your proposed storefront exhibit explore the idea of Queer Domesticity?

(max 200 words)



Please provide an artist bio

(200 words)

and attach a CV
& promotional headshot 


** This Bio & Headshot  will be used as promotional material for selected artists.

Provide 6 examples of your previous work as support materials.
Do you have a preference for a storefront in the Leslieville BIA, or a pre-existing relationship with a business there?


** Not Required – but this will help us with artist-business matching**



Are you a member of any of the following Equity Seeking Groups:


Indigenous, Francophone, Person of Colour, Deaf, Person with Disability/ies,




Person Living with Mental Illness



Please save your single PDF document with your name in the file name, and InView at the end,
i.e. Robin_Smith_InViewApp.pdf.
If you have any questions about the application process, you can email our Programming Coordinator Adam, adam@eastendarts.ca. No phone calls, please.
Deadline for submissions: Monday April 20, 2020 11:59PM EST
FUNDERS
Pride:InView and Leslieville Pride are generously supported and funded by the Ontario Arts Council, an agency of the Government of Ontario, The Leslieville BIA, and East End Arts.