April 17, 2019 (Toronto) – In the first appearance of his tenure, Toronto's newest Poet Laureate A.F. Moritz will deliver a public reading alongside three young poets at The Poet Presentation Centre in Leslieville on April 24. An Evening of Poetry Readings is a joint initiative brought to life by East End Arts and Fieldgate Urban, with a timely connection to National Poetry Month. The free event hopes to shift perceptions about what urban development means for the arts and cultural sub-communities within Toronto.
"East End Arts is thrilled to partner on this event with Toronto's newest Poet Laureate, A. F. Moritz, and with Fieldgate Urban. It's a great example of how developers can work with artists and arts groups to create necessary space for arts and culture in our communities," says Shana Hillman, Executive Director of East End Arts. "We can't think of a better way to celebrate the vibrant literary voices of east Toronto, and how fitting that it falls during National Poetry Month!"
A.F. Mortiz was appointed Toronto's sixth Poet Laureate in early March, succeeding Anne Michaels. A University of Toronto professor, Moritz's many accomplishments include the 2009 Griffin Poetry Prize and the 2013 Raymond Souster Award. The Toronto poet has also published more than 20 books of poetry.
"I'm proud to present three young poets whose work will inspire anyone, whether inside or outside the vibrant Toronto literary community," says Moritz, Toronto's sixth Poet Laureate. "Each of them expresses vital aspects of Toronto's diversity, and the dynamism of its poetry. I'm proud that mercedes killeen, Peter Norman, and Lily Wang have agreed to join me in the first of what I hope will be an ongoing series, "The Poet Laureate Presents," discovering and offering poetry in every part of our city."
The event will take place at The Poet Presentation Centre in Leslieville – a hub for the east end's upcoming development, The Poet Condos.
"The eclectic flair of Leslieville is a big part of what makes The Poet Condos a fantastic living opportunity and the arts and cultural ambiance of this neighbourhood is a big part of that," says Dov Seidenfeld, Principal at Fieldgate Urban. "We're excited to host Toronto's newest literary ambassador and talented community members at The Poet, and we look forward to bridging the gap between urban growth and the inherent vibrancy found in Leslieville's arts and cultural circles."
An Evening of Poetry Readings is free and open to the public on Wednesday, April 24 at The Poet Presentation Centre, 1170 Queen Street East. Doors will open at 6:30 p.m. and readings will begin at 7 p.m. Visit www.EastEndArts.ca and www.ThePoetCondos.com for more information.
–  30  –
Visit the event web page here.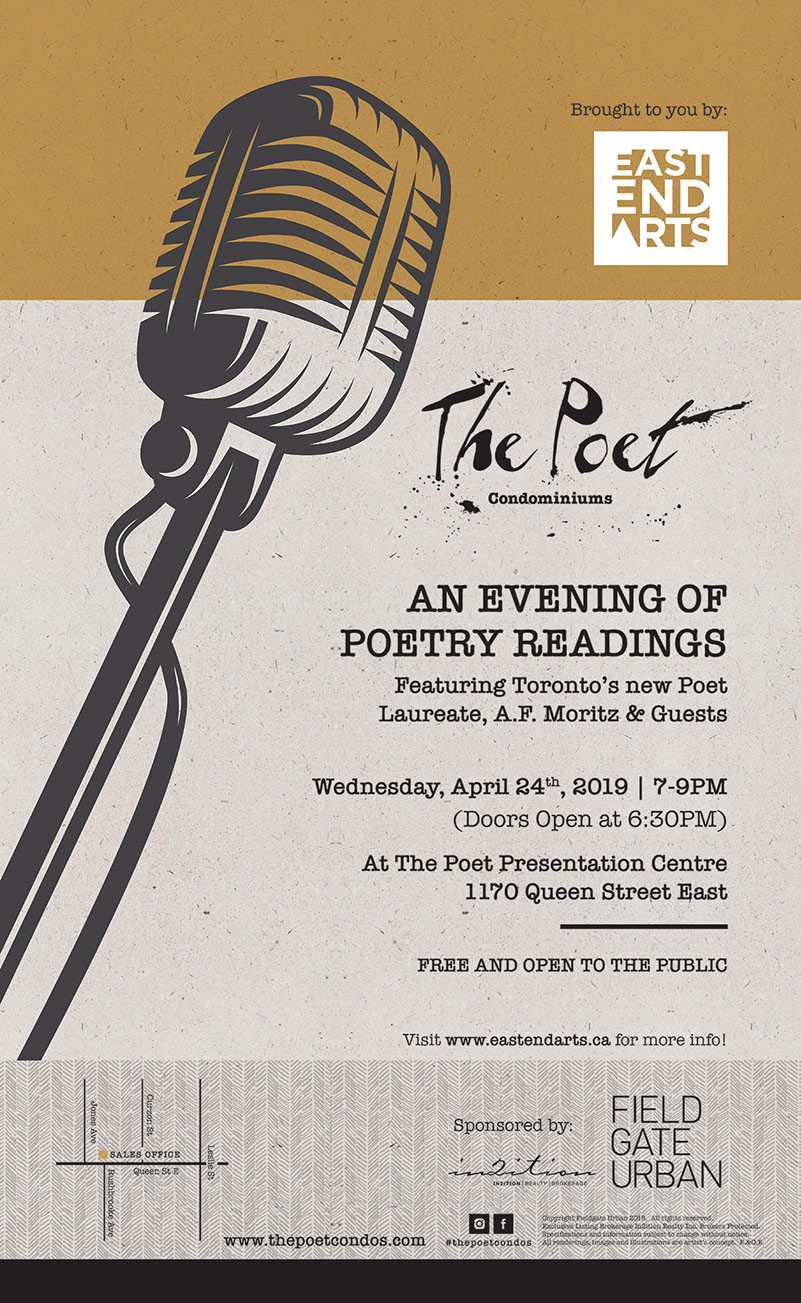 About The Poet Condos
Located at Queen Street. E. and Leslie Street, The Poet Condominiums is Toronto's most exciting new urban residence. Discover a vibrant urban lifestyle in one of Toronto's most iconic neighbourhoods. Unique shops and restaurants, beautiful parklands, easy access to TTC streetcar, and more, make The Poet Condominiums the new home of stylish and convenient living in Toronto's East End. To your own self, be true — at The Poet Condominiums.
About East End Arts
East End Arts is a non-profit community arts organization that serves the east end of Toronto. East End Arts provides inclusive arts programming and events to their local communities, including youth, newcomers, seniors and priority groups. They also provide professional development opportunities to both emerging and established artists and arts organizations. Learn more about East End Arts here: www.eastendarts.ca
About Fieldgate Urban
Since 1957, Fieldgate Homes has been developing and building in almost every corner of the Greater Toronto Area. A fully integrated builder of master planned communities, residential high-rise and commercial developments across the region, Fieldgate is widely recognized as a leader in architectural distinction and for its rigorous attention to detail. The company has been the homebuilder of choice for over 20,000 families through its cutting-edge planning, design, and construction, as well as its uncompromising dedication to customer service. Delivering consistently high quality and value to its buyers has been a Fieldgate trademark since its inception, and will continue to be the foundation of its success. Building on this history, Fieldgate Homes has further diversified its brand by forming Fieldgate Urban, a specialized division focused on building midrise and high-rise communities and new condominium homes.