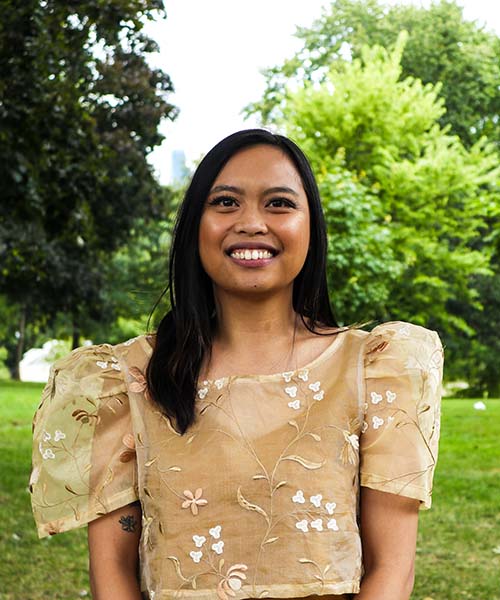 She/Her/Siya
Patricia is a Toronto-based Filipinx multidisciplinary artist, community worker, and arts and culture educator and administrator. Patricia holds an HBA from the University of Toronto Scarborough, where she completed a Studio Specialist degree. Her practice questions issues of hybrid identity, femininity, and conservative cultural expectations, with a preference of using playful irony and focusing on family history, memory, pop culture, and the body. She has focused primarily on performance and video art, but also works with drawing, collage, painting, and photography. She is always looking to expand her practice by experimenting with different mediums — with graphic design, photogrammetry, and VR as her latest explorations.
Patricia has been volunteering with KAPISANAN Philippine Centre for Arts and Culture since 2011 and is a CLUTCH program alumnus, so she is delighted to be the current Program Manager of KAPISANAN and create and coordinate KAMI, a program that empowers femme Filipino/ax youth artists. She is thankful to create, connect, and learn with Filipino/a/x communities.
Her recent work experience includes Programming Coordinator for Images Festival 2022: Slow Edition, a workshop facilitator for Filipino Heritage Month that included a paper weaving craft lesson for elementary schools in the Halton region (presenting to about 400 students!), and Community Worker Assistant for SOSA (Scarborough Seniors Association) to help create Scarbarrio Kwento: The Life of Seniors in Scarborough, a digital storytelling project.
Patricia is dedicated to providing accessible platforms to equity-deserving groups through arts and passionate about bringing meaningful experiences to different communities. She is proud to rep Scarborough, "galavanting" all over the GTA – frequenting cafes and exhibitions and exploring restaurants, bars, and festivals.
Find out more at mpabuelstudio.com