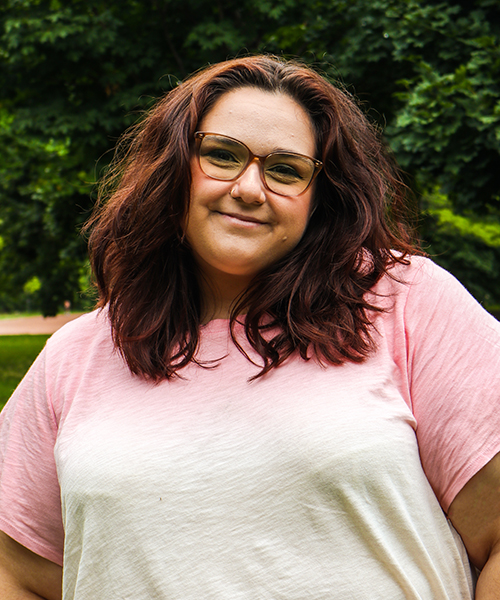 She/Her
Alex, originally from Kitchener ON, and has always had an intense love for the arts. She grew up drawing on napkins with her grandad, admiring the murals done by her great-grandfather, and always wanted a place among them in the arts. She is especially drawn to abstract mediums but will forever have a place for the old masters in her heart. 
Alex is a graduate from the Visual and Digital arts program at Humber College and is currently finishing up her BFA at OCAD University in their Criticism and Curatorial Practice program. Any chance she can get, Alex loves going to exhibitions, show openings, and just being in a gallery space. A quote that Alex is known for is "Galleries feel like coming home after a long day." Along with gallery hopping, she dabbles in abstract painting, digital painting, and automatic drawing. 
Alex came to East End Arts in her third year at OCADU as an intern, and today she is the Programs Assistant who has her hands in many programming pots. As an emerging arts administrator, Alex is eager to help out in her community, and loves interacting with other artists, administrators and art lovers. She is passionate specifically about community awareness in the arts, and believes that in this gorgeous city of ours, it should be covered in colour and beauty. 
When Alex isn't making work, viewing work or building programs that produce work, you can find her spoiling her two cats Apollo and Jupiter, jamming out to oldies, or outside basking in the sunshine. Alex is a major film and television lover, she loves traveling, sightseeing, good food and of course, exploring what this amazing city has to offer!