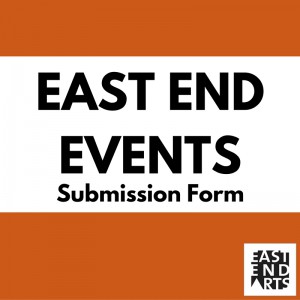 Please share your east end arts-related event with us for listing consideration on our calendar of East End Events.
Our calendar includes information about east end arts-related events (performances, exhibitions, opening receptions, community events, etc.) that occur in Wards 29-32. We may modify listings submitted to fit our format, and will link back to the original website source of information to provide the reader with full details of your event. We encourage you to submit images and/or links to existing online video that are relevant to your event.
We will not publish your name or email address, but do request this information in case we need to follow up or request clarification.
Kindly fill in the fields below and we'll get the details up onto the calendar as soon as possible. If you have any additional questions, please connect with us at web(at)eastendarts.ca.