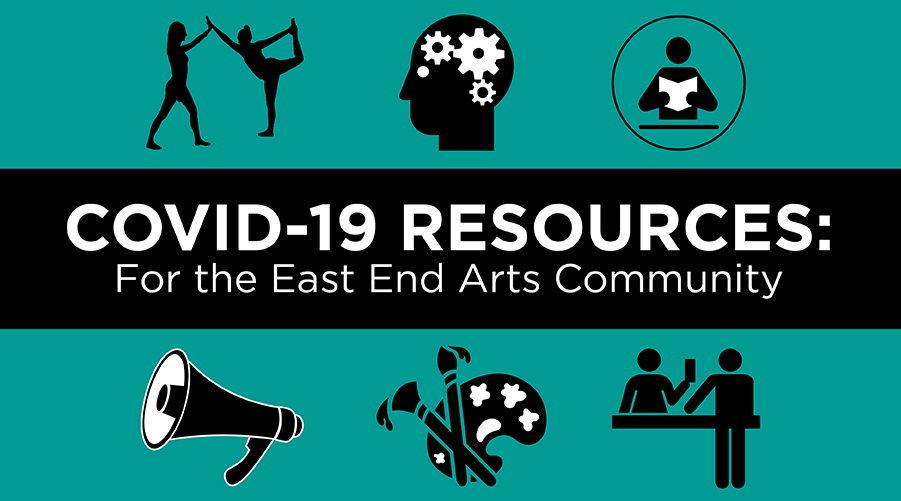 **Please Note: As of June 1, 2020, this page is no longer being updated on a regular basis. We have transitioned our Virtual Events listing to our Online Events Calendar. Ways to Support the Arts Community, Tips for Taking Care of Your Physical Health, and Tips for Taking Care of Your Mental Health continue to be applicable.
Find here a list of resources, tips and links for the East End Arts Community, including artists, arts workers, and community members. Stay safe and stay informed!
While there are many things we cannot control during a pandemic like COVID-19, there are many things that we can control like taking care of ourselves, and staying informed on the supports & resources available. East End Arts recognizes the difficult and devastating impact that COVID-19 has everyone in our community, and please know that we are working hard to provide you with useful, up to date information to help you get through this time. We will update this resource page with additional information as it becomes available. Please see our COVID-19 Updates page for announcements from East End Arts directly.
On this page you will find,
1. Resources for Artists & Arts Workers

Here are some Recommendations & Resources for Artists & Arts Workers:
Track Your Financial Losses:
Please note the Canada Council currently advises the following,
"For the time being, it is very important that you accurately document your lost revenues as the results of deferrals and cancellations directly related to the measures taken to control the spread of COVID-19." 
As such, East End Arts encourages our community of artists, arts workers and creative professionals to keep track of your revenue losses. As the local arts service organization for east Toronto, East End Arts will be playing a larger role in helping to collect this data from our local artists and arts organizations in the coming future. Below are some resources to help you track the economic impact of your cancelled or postponed artistic work.
Apply for Government Financial Assistance:
To stay up to date on the most recent supports from the Canadian Government, we encourage you to visit the link below. Please note that as of March 25, 2020, the Government has introduced the "Canada Emergency Response Benefit", which can help artists, arts workers, and arts organizations alike:
"To support workers and help businesses keep their employees, the government has proposed legislation to establish the Canada Emergency Response Benefit (CERB). This taxable benefit would provide $2,000 a month for up to four months for workers who lose their income as a result of the COVID-19 pandemic. The CERB would be a simpler and more accessible combination of the previously announced Emergency Care Benefit and Emergency Support Benefit." More here.
Apply to External Resources For Funding & Support:
Canada Council: provides a summary of government support measures for artists.
Akin Rent Relief Fund: provides support to current Akin artists and creatives, while also seeking donations to support the fund.
The Facebook-National Arts Centre Fund: provides support to performing artists who launch online performances. Total artist fees allocated will total $600,000, while performances will be shared on their Facebook page.
MusicTogether.ca: is offering an Emergency Relief Fund up to $300,000 for Ontario musicians.
AFC (The Actor's Fund of Canada): provides support to entertainment industry professionals working in TV and film, music, theatre, and dance through their Emergency Financial Aid Application.
*Note that Netflix Media has allocated $100 million to a fund for support for film and television workers. Included in the support package is $1 million to be shared by AFC and Fondation des Artistes in Canada. Read more here.
Writer's Trust: provides emergency funding for professional Canadian writers in mid-project through their Woodcock Fund Grant.
City Hall Live: is a music series put on by the City of Toronto that is moving online. The series will feature over 100 Toronto artists while supporting the great work of Unison Benevolent Fund. If you're a Toronto musician interested in applying to be considered for bookings through the City of Toronto's Music Office, go here.
Glad Day Bookshop: provides support for LGBTQ2S artists, performers and tip-based workers who are in dire financial need through their Emergency Survival Fund.
Unison Benevolent Fund: provides support to Canadian musicians through their Unison COVID-19 Relief Program. More info here.
Format: provides $25,000 to help self-employed photographers facing hardship through The Photographer Fund.
National Theatre School of Canada: provides grants to emerging artists, artists in training, or artists who have completed a theatre training program within the last 5 years.
CANVAS: Canadian Arts Resources Foundation for Ontario provides support to visual artists through their artist relief fund.
The Toronto Public Library: is currently offering a temporary digital library card to access OverDrive, their largest collection of ebooks and audiobooks.
PYEGlobal: Partners for Youth Empowerment is offering FREE online workshops called the Creative Catalyst Series. 90 minute workshops each Tuesday led by PYE facilitators from around the world will demonstrates how to use creative expression for your own well being as well as to deepen the impact of any work you may do with groups of youth or adults, online or in person.
ADC, Associated Designers of Canada: provides support to designers & producers across Canada. They are currently asking that all members keep a detailed record of cancelled or postponed contracts and they will be reaching out to gather that information shortly.
Opera.ca: provides support to opera artists experiencing immediate cash shortages through their Opera Artist Emergency Relief Fund.
Behind the Scenes: provides support to entertainment technology professionals.
Live Nation: has launched Crew Nation, a $10 million fund to support live music crew members.
Read Additional Resources:
2. Ways to Support Local Artists & Arts Organizations
Here are 5 Recommendations for Supporting Local Artists & Arts Organizations amidst COVID-19:
Buy or Commission Art from Local Artists 

If you've been thinking about it, now is a great time to buy that painting, sculpture, album, or whatever piece of art, product or merchandise you admire & want from local artists. Similarly, you might consider commissioning a local artist to create a specific piece of art for your home!

Donate to Artist Relief Funds 

In Toronto alone there are countless GoFundMe Campaigns to support local artists that you can donate to (see a small list below). You might also consider donating to Emergency Relief funds, like the Toronto Arts Foundation's 'TOArtist COVID-19 Response Fund', which helps actors, dancers, musicians and visual artists in Toronto who have lost income & do not qualify for EI because they are self-employed.

GoFundMe Campaigns to Donate to:
–Toronto Dancer's Relief Fund
–Micro Artist Grants for Groceries (Toronto-based)
–URGNT: online music venue COVID artist relief fund
–Canadian Artist & Musician Relief Fund (for GTA & Montreal)
-Visit GoFundMe to browse more campaigns to donate to

Artist Relief Funds to Donate to:
–The TO Artist COVID-19 Response Fund
–MusicTogether Emergency Relief Fund
–The Akin Rent Relief Fund
–Global Relief Fund for Live Music Crews

Donate Directly to Arts Organizations


Many arts organizations are also charities, non-profits, and social enterprises who rely greatly on the support from their communities. You can make a donation to your local arts organizations now for a 2020 tax receipt. Or, if you've already purchased a ticket from an organization for an upcoming event, you might consider donating the value of your ticket(s) back.

Arts Organizations in east Toronto to Consider Donating to:
–Crow's Theatre
–Toronto Fringe
–ArtHeart
*If you have have additional organizations you'd like noted here, send us an email web@eastendarts.ca

Buy Gift Cards, Products & Early Subscriptions


Consider buying gift cards or products from your favourite local arts organizations or businesses. Maybe you know someone who is celebrating a birthday soon? Consider giving them gift cards or products from a local artisan shop or bookstore. You might also consider buying subscriptions for the 2020-2021 season at different theatre or music venues.

Arts Organizations in east Toronto to Consider Buying from:
–Fox Theatre
–Secret Planet Print Shop
–The Make Station
–Gotamgo
*If you have have additional organizations you'd like noted here, send us an email web@eastendarts.ca


Share, Like & Support All Online Arts-Related Content


Right now is a great time to like and share the work of all local artists & arts organizations online. Share their work with others to boost their social following and hopefully sales; support & attend their online performances and workshops; embrace the accessibility of online platforms and show your support to the arts right now in whatever way you can!
More Resources for Reading:
3. Virtual Art Events in Our Community

**PLEASE NOTE THAT THIS SECTION IS NOT BEING UPDATED WITH NEW MATERIAL. ALL OF THESE EVENTS, AND NEW ONES MOVING FORWARD CAN BE FOUND ON OUR EVENTS CALENDAR PAGE**
Find below some virtual online art events & experiences for you to enjoy at home. Send any events or experiences you'd like listed to info@eastendarts.ca, or tag us on social media!
4. Tips for Taking Care of Your Physical Health
Here are East End Arts' top 5 Recommendations for Taking Care of your Physical Health at Home:
Follow Local Health Recommendations

Continue following recommendations from Health Canada, Gov't of Ontario and Toronto Public Health, including practicing social distancing, limiting your trips outdoors for groceries, medications & other essentials to once a week, regularly washing your hands, avoiding crowded areas, and cleaning and disinfecting frequently touched objects and surfaces.

Practice Good Nutrition & Eat Healthy

Don't forget to continue to incorporate fresh produce into your diet. You can buy
fresh fruits & veggies, cut them up and put them in your freezer. Also sturdy veggies like broccoli, sweet potatoes, Brussel sprouts, etc. will keep for a longer time outside of the freezer. Be mindful of over indulging in frozen meals, high salt & fat snack foods and other forms of stress eating.

Keep Active (Indoors or Outdoors)

While gyms & community centres may be closed, you can still keep you & your family active. Walking, running, biking and so on outside is acceptable, so long as you keep a safe distance (approximately 6ft) away from other people. You can also enjoy many of the free virtual classes that many gyms across Toronto are offering, or implement your own at-home exercise & stretch routine.

Get Enough Sleep

Ensure that you continue to get 6-8 hours of sleep each night, which can mean reducing how much screen time you engage in before bed; avoiding using your bed as an office; and sticking to a regular bedtime and wake up time.

Manage Stress

It's important to manage your stress levels during a time like this. Yoga & meditation are great options, which can be done in small spaces at home; online apps can be used for mindfulness like Headspace or Calm; and engaging in an art form or creative practice like journaling, painting, weaving, or other handiwork can help your hands & minds stay busy. More specific tips on mental health wellness to come tomorrow.

More Resources for Reading:

–COVID-19 Health Advice from City of Toronto
–COVID-19 Prevention & Risks from Government of Canada
–Staying Physically & Mentally Healthy from Time.com
–Health & Nutrition Tips from American Society for Nutrition
–Staying Healthy in Isolation from British Heart Foundation
–Staying Healthy in Isolation from GoodHousekeeping.com
–Tips to Safeguard Sleep in COVID-19
–Managing Anxiety & Stress from Centers for Disease Control & Prevention
5. Tips for Taking Care of Your Mental Health
Here are East End Arts' top 5 Recommendations for Taking Care of your Mental Health at Home:
Practice Self-Care & Relieve Stress

Practice self-care in the way that makes sense to you! Try at-home yoga or meditation with free online apps like HeadSpace or Calm; incorporate regular exercise into your weekly routine; and/or try engaging in an art form or creative practice like writing, painting, weaving, singing, etc.

Discover & Accept A New "Temporary Normal"

For many of us, spaces & schedules for work, home and community have all changed drastically; however, having a reliable routine at home can offer structure & predictability. Discover a new "temporary normal" routine that keeps you healthy and in physical distance from others: create defined spaces in the home for work and self-care; try to maintain a routine that reflects your normal day routine (including sleep); and block in appropriate time for work, play, fitness, chores, and so on.

Stay Connected to Those You Love

Build a strong support system for yourself by staying connected to your family and friends. Utilize video tools like Skype, Facetime, Google Hangouts, Facebook and WhatsApp to connect visually; block-in fun social get-togethers like coffee breaks, happy hours or game nights online; and if you're isolating, let your family and friends know so they can keep in touch with you more often.

Stay Informed, But Avoid Too Much Exposure

It's important to keep yourself informed, but also to seek information from reliable news sources only. Limit checking in on the latest news to short, defined periods; refrain from setting push notifications on your devices that can be disruptive; balance news media with other entertainment options or enjoyable activities and return to normal life as much as possible.

Reach Out For Formal Help When You Need It

If mental health symptoms (from COVID-19 or otherwise) are causing you significant distress or are interfering with your ability to function normally, reach out for formal mental health supports from a recognized local agency. Toronto: CAMH (416 535-8501), TeleHealth Ontario (1-866-797-000), or Distress Centres of Greater Toronto (416-408-4357).

More Resources for Reading:

–CAMH Covid-19 Resources
–Mental Health Commission of Canada
–BounceBack Ontario (a free skill-building program managed by the Canadian Mental Health Association (CMHA))
–COVID-19 & Mental Health At Work (Gov't of Canada)
–Toronto Distress Centres
–Government of Ontario Mental Health Services
–COVID-19 Coping Tips for Youth & Kids
–Strategies for Coping with Isolation and Loneliness During the Coronavirus Pandemic
–COVID-19 & Mental Health from NCAA (American resource)
–Centers for Disease, Control & Prevention, Stress & Coping (American resource)
–VirusAnxiety.com (American resource)
–15 Apps to Help with Meditation & Wellness