THE 4TH OF ITS KIND SPRING FLING CRAFT AND FOODIE AFFAIR.
April 6 @ 9:30 am

-

2:30 pm

Free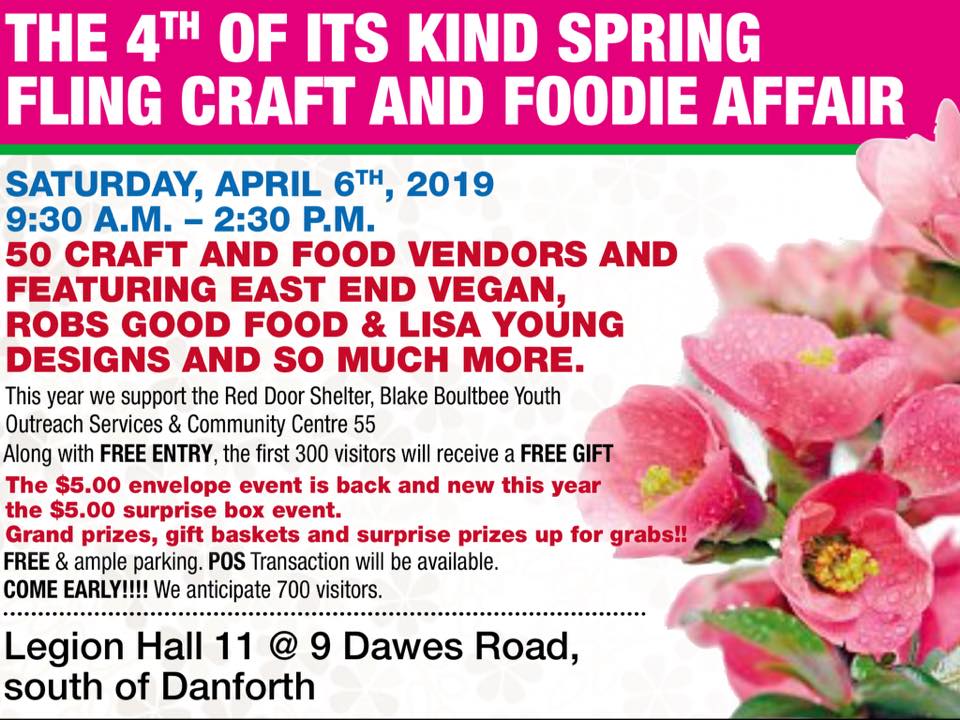 THE 4TH OF ITS KIND SPRING FLING CRAFT & FOODIE AFFAIR.
SATURDAY APRIL 6th 2019. 9:30am – 2:30pm
HOST SITE LEGION HALL 11 LOCATED @ 9 DAWES ROAD
https://www.facebook.com/The4thOfItsKindSpringFlingCraftAndFoodieAffair/
WE ARE SO EXCITED AND WHY YOU MIGHT ASK??
The 4th of Its Kind is fast approaching and we want you to be a part of it.
If you have not already done so, please like our facebook page and share with all of your contacts. Family, friends and even strangers, yup strangers. Our community grass roots event is jam packed with so much goodness that everyone who can and wants to attend is welcomed.
Our show is all about giving back.
This year our spring show will celebrate with all donations less expenses given to local not for profits in our neighbourhood. The Red Door Shelter, Blake Boultbee Youth Outreach Service, Centre 55 and our host site Legion Hall 11.
Here are just a few of the highlights.
1. 50 hand picked craft and food vendors with just a few direct sale vendors who are in keeping with our spring time theme.
2. A free gift to the first 300 visitors to arrive.
4. 4 grand prizes available to anyone who spends a minimum of $10.00 at the event. Each $10.00 you spend earns you one ballot. The more you spend the more ballots earned.
5. On arrival donate a toonie to support both of the RDS and BBYOS and your name will be entered to win one of 8 gift baskets donated by local community businesses.
6. Buy a $5.00 surprise box for a chance to win one or more of 15 gift certificates to local businesses hidden in one of the boxes. OH and you get to keep the gift inside the box.
7. We have ample and free parking, wifi for point of sale transactions, ATM on site and accessible location by TTC and so much more.
We however do not have an elevator on site, but we ARE on the first floor and assistance into the venue can be arranged.
8. We had 700 visitors attend our holiday show in December. We anticipate that number or more so save the date, plan to attend and bring a friend or two or three or four.
Link is included here.
https://www.facebook.com/The4thOfItsKindSpringFlingCraftAndFoodieAffair/