Songwriting Masterclass Series
August 23 @ 7:00 pm

-

8:30 pm

|

Recurring Event

(See all)

Every other week from July 12, 2020 - August 23, 2020

Pay What You Can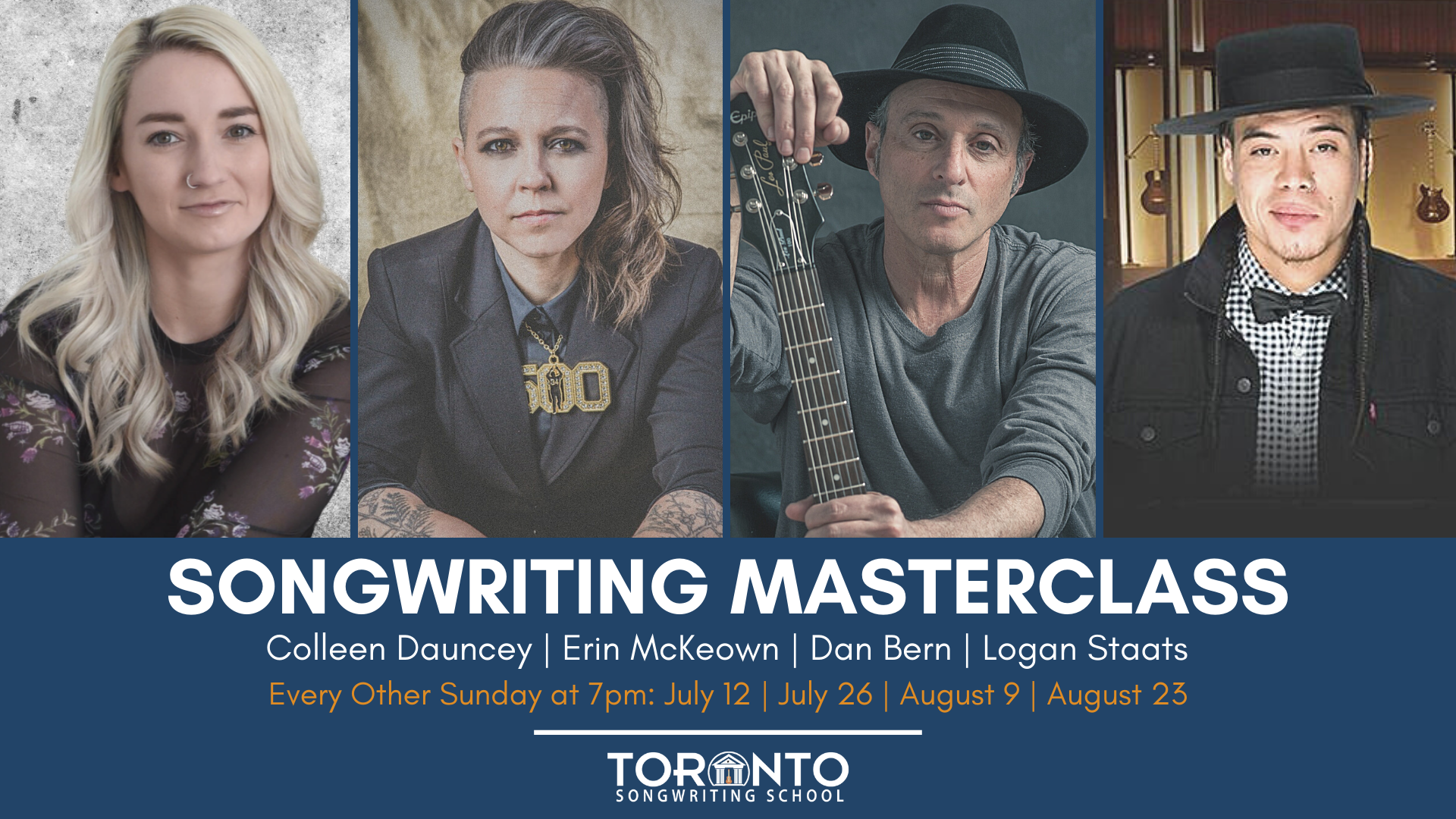 This summer, Toronto Songwriting School invites some of the best songwriters in North America to present a Songwriting Masterclass at 7pm EDT every other week on Facebook Live at: https://www.facebook.com/TorontoSongwritingSchool/.
Our Songwriting Masterclass lineup includes Colleen Dauncey, Erin McKeown, Dan Bern, and Julian Taylor. Each will lead their own masterclass, and then we'll open the comments section for a live Q&A. For those who may not know all of these names, let's do a quick introduction.
July 12 – Colleen Dauncey
Colleen Dauncey (full bio) is a Canadian musical theatre powerhouse who is best known for her musicals Going Under, Bremen Rock City, Rumspringa Break!, and Prom Queen: The Musical (recipient of the 2016 Stage West Pechet Family Musical Award). But don't put her in a box. In addition to her musical theatre work, her songs have been featured in movies, television, and most recently, the 2020 web series Avocado Toast.
July 26 – Erin McKeown
Erin McKeown (full bio) is a musician, writer, and producer known internationally for her prolific disregard of stylistic boundaries. Over the last 20 years, she has performed around the world, released 10 full length albums, and written for film, television, and theater, all the while refining her distinctive and challenging mix of American musical forms. Her first musical, Miss You Like Hell, written with Pulitzer Prize-winning playwright Quiara Alegría Hudes, opened Off-Broadway at The Public Theater in 2018. It was nominated for 5 Drama Desk Awards, including Best Lyrics, Best Music and Best Orchestrations, and The Wall Street Journal named it Best Musical of 2018.
August 9 – Dan Bern
Dan Bern (full bio) may be best-known for his songwriting masterpieces like "Jerusalem," "Marilyn," "Tiger Woods" and "God Said No," but he has also released 25 albums and EPs, and played thousands of shows across North America and Europe. He is a captivating live performer with a loyal, multi-generational following. His songs have appeared in numerous films and TV shows including films Walk Hard — The Dewey Cox Story and Get Him to the Greek, and the Amazon Prime kids program, The Stinky and Dirty Show.
August 23 – Julian Taylor
Julian Taylor (full bio) doesn't fit in a box. A Toronto music scene staple and a musical chameleon, he is used to shaking it up over the course of 10 albums in the last two decades. Of West Indian and Mohawk descent, Taylor first made his name as frontman of Staggered Crossing, a Canadian rock radio staple in the early 2000s. Despite being released in a pandemic, his latest solo album The Ridge has been featured in American Songwriter and is already receiving rave reviews worldwide.
With tours cancelled and businesses shuttered, we know these are difficult times personally and financially for many people. It's a difficult time for us. It's a difficult time for our Masterclass instructors. And it's a difficult time for many of you. Because of this, we've decided to make the Masterclass a Pay-What-You-Can event. Throughout each class, there will be information on how to donate to that week's instructor. You can also donate by clicking the donate button and selecting the Masterclass presenter you would like to support. Thanks to the generosity of the SOCAN Foundation, we're able to pay each instructor a stipend for their time, but your donations will make it closer to what they actually deserve for sharing their wisdom and expertise.
We're excited to be able to bring this Songwriting Masterclass Series to you. Each has their own unique style of songwriting, and there's a lot we can learn from them so be sure to tune in each week to add their insights to your songwriting toolbox.
Visit our website to donate: http://www.torontosongwritingschool.com/2020-songwriting-masterclass/