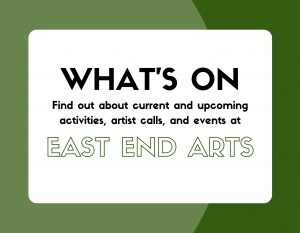 Find out about current and upcoming activities, events in the east end, artist calls, workshops, and opportunities at East End Arts.
Explore our calendar of EAST END EVENTS and visit our ARTIST OPPORTUNITIES page for Toronto-wide artist calls, job postings, funding opportunities, and more.
Join our ARTS-E-NEWS email list to receive monthly updates and highlights of east end ongoings and opportunities for artists.
---
CURRENT AND UPCOMING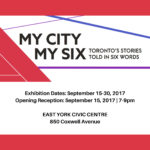 My City My Six Exhibition
The My City My Six Exhibition transforms the East York Civic Centre into a unique, public gallery space featuring over 200 six-word stories submitted by east Toronto residents, showcasing the diverse stories of east Toronto, six words at a time. The exhibition will be on display until September 30. My City My Six is a Cultural Hotspot project, in celebration of Canada 150, in partnership with the City of Toronto. Part of the Weekend of Words.
---
Cultural Hotspot East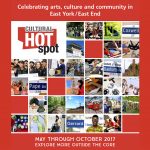 From May through October 2017, the Cultural Hotspot program shines a spotlight on arts, culture, and community in East York and the East end, inspiring new ideas about where culture thrives in Toronto. Explore a list of Cultural Hotspot SPARK and Signature community events!
---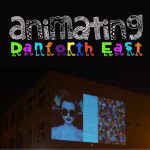 Animating Danforth East
ArtCave presents Animating Danforth East – a series of free animation workshops for kids, youth, and adults, held by emerging and established local artists and animators from May-September & an exhibition and animation festival from September 16-23. A Cultural Hotspot SPARK Project.
---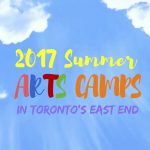 2017 Summer Arts Camps in Toronto's East End
Explore a list of creative local Summer Arts Camps in Toronto's east end. Children will share artistic experiences, make new friends, and express their creativity through these fun summer programs.
---
---
Please SHARE and let us know what's going on with you too! Drop us a line and CONNECT if you have an artistic east end event that we can help support and share information about.
Follow us on FACEBOOK, TWITTER, and INSTAGRAM.