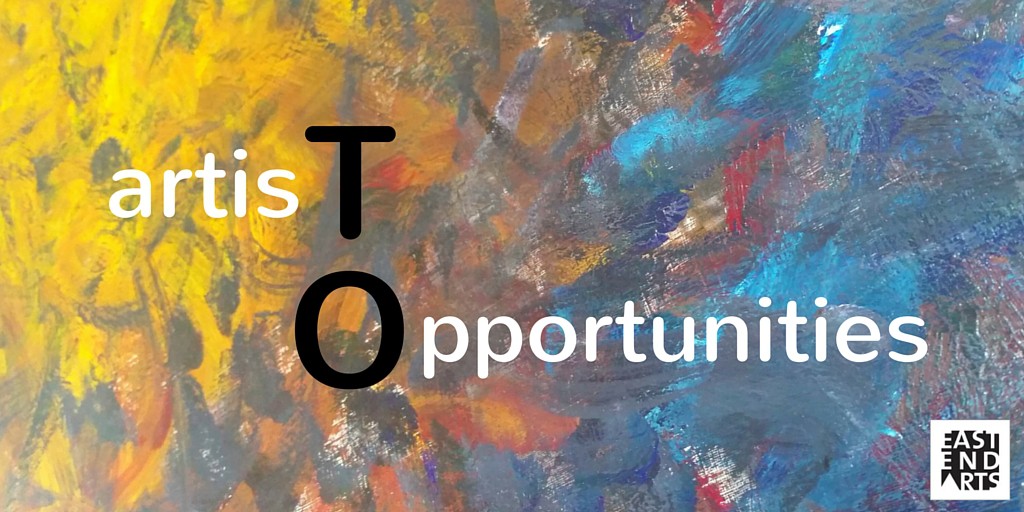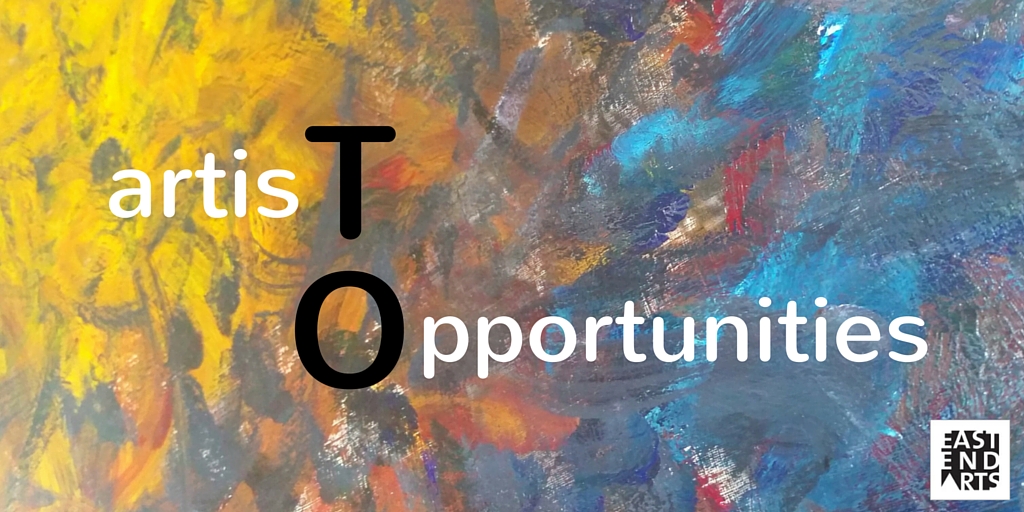 An online resource listing current opportunities for Artists in Toronto, including: Calls for Artists and Submissions; Awards and Nomination Calls; Professional Development, Training, Volunteer and Employment Opportunities; Workshops; Grant and Funding Opportunities; and more.
Sign up to receive Arts-E-News for a monthly overview of upcoming Artist Opportunities and East End Events.
Have any opportunities you would like to share? Use our online Artist Opportunities Submission Form or contact us at web@eastendarts.ca
---
CURRENT OPPORTUNITIES (listed by category & deadline date):
EMPLOYMENT OPPORTUNITIES
* INTERNSHIP OPPORTUNITIES: Multiple Internships (ECW Press)
ECW Press is offering three paid internships in early 2018: Production Editor Internship, Marketing/Publicity Internship, and Data and Operations Internship. These opportunities will involve you in the many aspects of a book publishing company active in Canada, the U.S., and around the world, joining a team of 16 people. Each internship will pay $6,000, and lasts from February 12 to May 11. You will work full-time, normal business hours in the ECW office in the east end of Toronto, in a friendly, informal environment, with occasional evening and weekend events offsite. Full details HERE.
Deadline: January 27, 2018
* EMPLOYMENT OPPORTUNITY: Creative Placemaking Lab Director (Artscape)
Artscape's Creative Placemaking Lab (CPL) Director leads Artscape's effort to understand and leverage the power of the arts to be a catalyst for change in urban and community development. Responsibilities include leading the development and delivery of fee-for-service and knowledge sharing programs and services; development and community/stakeholder engagement; and building a better enabling environment for creative peacemaking work. Read the full job description HERE.
Deadline: January 29, 2018
* EMPLOYMENT OPPORTUNITY: Art Instructor and Studio Assistant (Fresh Paint Studio + Cafe)
Fresh Paint Studio + Cafe
 is seeking an experienced Art Instructor and Studio Assistant. The selected candidate will have experience teaching art to adults and children, with teaching experience in art workshops or art classes. The selected candidate will have an artistic specialty or specialties which they can also introduce to the studio, and will be required to provide support for the lead instructor for art workshops, corporate painting events, and art parties for children and adults in the form of set-up, clean up, and general support, etc. Read the full
Job Description – Fresh Paint Studio + Cafe – Art Instructor & Studio Assistant
.
Deadline: until filled
---
CALLS FOR ARTISTS
* CALL FOR SUBMISSIONS: Outdoor Sculptures (Oeno Gallery)
Oeno Gallery's Sculpture Garden at Huff Estates opened on June 25, 2011 as a place dedicated to the exhibition of high-quality outdoor sculpture. The 4-acre garden is a prized feature of the property and receives thousands of visitors yearly. The gallery invites artists to submit proposals for the garden's continuing outdoor exhibition. The property offers a wide variety of sites for placement. The artist is responsible for the transportation, installation, and removal of their work. Sculptures must be able to withstand extreme year-round weather conditions and tolerate strong winds. Sculptures must be original, durable, and safe for viewing by the public in an unsupervised natural area. The work must also be available for sale. Full details HERE.
Deadline: January 24, 2018
* CALL FOR SUBMISSIONS: Red Impulse (Propellor Gallery)
Propellor Gallery invites artists to submit your own interpretation of the colour red and exhibit your work in this open call show. Tell your story in the medium of your choice. The Red Impulse Exhibition will be on display at Propeller Gallery from February 14 to March 4, 2018. Full details HERE.
Deadline: January 25, 2018
* CALL FOR SUBMISSIONS: The Heart Show (Gerrard Art Space) 
Gerrard Art Space invites submissions for The Heart Show exhibition, which will be on display from January 31 to February 18 with an Opening Reception on February 3 from 3-6pm. The cost for Gerrard Art Space members is $25 and $50 for non-members for a maximum of 4 pieces per artist, with a maximum size of approx. 24″ x 24″ for each piece of art. Please send an email to gerrardartspace@gmail.com to request submission forms. Full details HERE.
Artwork Drop-Off: January 28, 2018, 4-6pm
* CALL FOR EXPRESSIONS OF INTEREST: StreetARToronto Underpass Program – StART UP (City of Toronto)
The City of Toronto invites artists to submit an Expression of Interest (EOI) to participate in StreetARToronto (StART)'s Underpass Program, StART UP. StART UP will endeavour to provide opportunities for artists to create works of art that contribute to the program mandate to make our City's underpasses safe, walkable, and beautiful. Qualified artists will be selected to be part of the StART UP Artist Roster, and the commission for each underpass mural will be awarded following a two-stage selection process. Full details HERE.
Deadline: January 29, 2018 at 4:30pm
* CALL FOR PROPOSALS: Toronto Sculpture Garden (City of Toronto)
The Toronto Sculpture Garden Request for Proposals is a one-stage, national competition, open to artists who reside in Canada. The projects for the Toronto Sculpture Garden will be selected by a specially-convened, independent selection panel, which will meet in February of 2018 to choose both projects for 2018. The Toronto Sculpture Garden is located at 115 King St. east, just east of Church St., directly across the street from St. James Cathedral and between two of the oldest buildings in the city, dating from the 1840s. Although the historical aspect of the area is evident, artists are not required to incorporate this into their projects. The Sculpture Garden is an invitation to let the imagination roam and an opportunity to dream and experiment. Full details HERE.
Deadline: January 29, 2018
* CALL FOR APPLICATIONS: Riverdale Art Walk (Artists' Network)
Riverdale Art Walk is a two‐day, public fine art exhibition showcasing established and emerging artists in Jimmie Simpson Park in Toronto's flourishing Queen East arts district. The first outdoor art show of Toronto's season, participating artists are selected through an anonymous jury process, allowing for an opportunity to participate in the only outdoor art show that focuses solely on fine art. Artist Awards in Photography, Painting, Mixed Media, and Other Media have been created through exciting new sponsorships with local organizations and businesses. Riverdale Art Walk is an Artists' Network initiative. Full details HERE.
Deadlines: February 5, 2018 (early-bird), March 11, 2018 (final) 
* CALL FOR APPLICATIONS: Queen West Art Crawl
Queen West Art Crawl (QWAC) invites applications from artists for its three-day weekend long festival of creativity and community designed to celebrate and promote the art, culture and diversity of Queen West in Toronto. The cornerstone of QWAC is the Outdoor Art Exhibition in Trinity Bellwoods Park on September 22 & 23. The Art and Culture Festival features a juried selection of the province's best artists and artisans, and also has a Kids Zone, Performance Zone and Toronto's best food vendors. Full details HERE.
Early-bird Deadline: February 14, 2018 / Final Deadline: April 30, 2018
* CALL FOR APPLICATIONS: StreetARToronto Partnership Program (City of Toronto)
The City of Toronto's StreetARToronto (StART)'s Partnership Program provides support and up to $50,000 in funding for large-scale projects that support the program's mission to revitalize and engage communities through mural, street and graffiti art. Individual artists, artist collectives, and not-for-profit or charitable organization operating in the City of Toronto may apply. Full details HERE.
Deadline: February 15, 2018 at 4:30pm
* CALL FOR PROPOSALS: Everyone is King Design Build Competition – Temporary Public Space Installations (City of Toronto) 
The City of Toronto has launched the Everyone is King Design Build Competition. This is an opportunity to be part of and contribute to the rethinking of King Street. The intent of the competition is to create a series of attractive curb lane public spaces on King Street for all to enjoy. Concept proposals are invited for Public Space Installations (PSIs), temporary creative designs that encourage people to gather, sit, and enjoy King Street. Full details HERE.
Deadline: February 15, 2018
* CALL FOR APPLICATIONS: Arts at the Market (St. Lawrence Market) 
St. Lawrence Market's exciting new Arts at the Market program provides local artists and makers with a unique opportunity to exhibit their high-quality handmade items at this popular destination for locals and tourists, animating the Market's outdoor areas with evolving product offerings for the duration of the North Market Redevelopment. Artists and artisans are invited to apply if their work falls into one of following categories: Group A: Jewelry, Fashion Accessories, Textiles/Fabric Arts/Silks, Household Products; Group B: Sculpture, Ceramics, Woodcraft, Metalwork, Glass; and Group C: Paintings, Drawings, Photography, Prints/Posters, Cards/Stationery, Books. Full details HERE.
Deadline: February 16, 2018
* CALL FOR SUBMISSIONS: Supercrawl 2018
Supercrawl is a free annual outdoor art and music festival held in downtown Hamilton, Ontario on September 14-16, showcasing a diverse and dynamic lineup of music, art, fashion, performance, talks, crafts, food and fun. Calls for submissions are open for Supercrawl's 2018 season for Music, Art, Fashion, and Theatre. Full details HERE.
Deadline: February 16, 2018
* CALL FOR SUBMISSIONS & EXPRESSIONS OF INTEREST: Nuit Rose 2018
Nuit Rose is a free annual festival of queer art and performance, showcasing provocative, contemporary work by local and international artists. Nuit Rose is now accepting submissions from artists, performers, writers, curators, cultural organizations, and community businesses interested in presenting work and projects for the fifth edition of the festival, which will take place on June 16, 2018. The theme for Nuit Rose 2018 is Unbound. Artists are invited to creatively interpret, explore, and respond to this theme in their proposed projects. Applicants may submit work in any medium: two dimensional works, sculpture, installation, screen-based works, new media, performance, multi-media and site-specific works. Full details HERE.
Deadline: February 19, 2018
* CALL FOR EXHIBITORS: Toronto Art Book Fair
The Toronto Art Book Fair is a free public event that features curated exhibitions, Canadian and international exhibitors, and community programming that includes panel discussions, readings, talks, launches, and workshops. Artists, publishers, presses, and organizations engaged in discourse and activities of social, economic, and political activism are encouraged to apply. Full details HERE.
Deadline: February 23, 2018
* CALL FOR PROPOSALS: Doris McCarthy Symposium (Doris McCarthy Gallery, University of Toronto Scarborough)
The Doris McCarthy Gallery at the University of Toronto Scarborough invites proposals for a November 2018 symposium that will offer fresh perspectives on the life and work of Doris McCarthy. Proposals may represent a broad spectrum of disciplines that include, but are not limited to, those working in the fields of: visual studies, music, film, history, women's studies, theatre, and performance. This public program will be presented in conjunction with a major exhibition of Doris McCarthy's work, curated by Stuart Reid, opening in November 2018. Full details HERE.
Deadline: March 1, 2018
* CALL FOR APPLICATIONS: Toronto Outdoor Art Exhibition
The Toronto Outdoor Art Exhibition, Canada's largest contemporary outdoor art fair, invites visual artists and makers working in all mediums, to submit applications. Artists can submit a total of 3 applications (fees apply) in 3 different categories including: 2D Works, 3D Works, Painting, Craft & Design, Photography, and Digital Media. The exhibition dates are July 6-8, 2018 Full details HERE.
Deadline: March 6, 2018. Late fees apply from March 1, 2018
* CALL FOR SUBMISSIONS: The Big Picture – Collective Art Project
The Big Picture is a collective art project where people around the world are collaborating to create a big mosaic picture from thousands of drawings. This project outlines the connections between individuals from all around the world and can be seen as a giant conversation taking place between all the participants through a dynamic and monumental art work. Full details HERE.
Deadline: Ongoing
---
GRANT & FUNDING OPPORTUNITIES / CALLS FOR NOMINATIONS / AWARDS
* GRANT OPPORTUNITY: Visual Artists Program (Toronto Arts Council)
Toronto Arts Council's Visual Artists program provides support to visual artists who have a professional independent art practice for the creation/production of new work or the completion of works in progress. Funds are intended to cover direct costs of creation/production, subsistence and materials. Visual Arts includes drawing, painting, sculpture, photography, mixed media, printmaking, bookworks, performance art, installation and fine crafts. Full details HERE.
Open between January 2 to November 15, 2018
* CALL FOR NOMINATIONS: Agnes Macphail Award (City of Toronto)
The City of Toronto invites nominations for the Agnes Macphail Award, which is given each year to an East York resident who is an outstanding volunteer, advocate, and contributor to community life. Community groups in the former Borough of East York are encouraged to nominate a candidate who meets the criteria and espouses Agnes Macphail's tradition of leadership. Click to be directed to the Nomination Form. Full details HERE.
Deadline: January 25, 2018
* CALL FOR SUBMISSIONS: Culture Build Investment Program (City of Toronto)
The Culture Build Investment Program provides matching funds to assist the City's not-for-profit cultural sector with funding for state-of-good-repair and minor capital projects for their facilities. Funding for feasibility studies may be provided to those organizations that meet the existing eligibility criteria. The program does not support regular building maintenance costs and cost of purchasing or building a facility. The maximum allocation available and recommended through the Culture Build Investment Program is $100,000. Full details HERE.
Deadline: February 7, 2018
* CALL FOR NOMINATIONS: Toronto Arts Foundation Awards
The Toronto Arts Foundation Awards are presented to artists, cultural leaders, and businesses in recognition of artistic excellence, cultural leadership, and contribution to the arts. The Toronto Arts Foundation Awards consist of two award streams: The Signature Awards and the Vision Awards. Any person may submit a nomination including arts champions, fellow artists, arts managers and leaders, and board directors. Full details HERE.
Deadline: February 7, 2018
* CALL FOR SUBMISSIONS: 2018 Burtynsky Grant (Edward Burtynsky and the Scotiabank CONTACT Photography Festival)
Canadian photographer Edward Burtynsky and the Scotiabank CONTACT Photography Festival invite submissions for the 2018 Burtynsky Grant—a $5,000 annual grant to support a Canadian artist in the creation of a photobook. Burtynsky generously donated his 2016 Governor General's Award in Visual and Media Arts to create the grant and foster the careers of emerging Canadian artists. This grant is intended to support photo-based artists who are in the advanced stages of developing a photobook. Full details HERE.
Deadline: April 30, 2018
---
ONGOING OPPORTUNITIES
* CALL FOR SUBMISSIONS: Music 311 and Live from City Hall (City of Toronto) 
City of Toronto brings the music of Toronto artists to the public through the Music 311 and Live from City Hall initiatives. As part of the Music 311 program, in-queue callers will hear recorded music from local artists while they're waiting to speak to a customer service operator. Live from City Hall is a music showcase series that features local artists performing in the first-floor rotunda of one of Toronto's most iconic buildings. Toronto-based artists are encouraged to apply for both opportunities to share their music. Full details HERE.
Deadline: Ongoing
* CALL FOR SUBMISSIONS: Connections Gallery
Connections Gallery invites submissions for its upcoming Group and Solo shows in 2017. Each Group Show exhibition will be a curated eight person show. Solo Show space can be used to launch a new body of work or provide a more formal presentation for gallery's and curators. Full details HERE.
Deadline: Ongoing
* CALL FOR SUBMISSIONS: 2017-2018 Exhibition at Queen/Saulter Library
The Queen/Saulter Library is pleased to provide space for art exhibits in a beautiful historic building. Artists are invited to submit their work for possible exhibition during the 2017-2018 exhibit season. Works in all media, including photography (no sculptures) will be considered. Selected artists are given three-month showings. Artists or groups of artists selected to exhibit will pay a $20 plus HST exhibition fee at the time of installation. Please contact the Queen/Saulter Library for more information or email jleung@torontolibrary.ca.
Deadline: Ongoing
* CALL FOR INSTRUMENT DONATIONS: The Music Project
The Music Project offers non-profit music education for east end kids. With increased enrollment, more children are learning music but there is a great need for additional instruments (keyboards, hand drums, bongos, guitars, and ukuleles). Learn more about The Music Project and how to donate HERE.
* RENTAL OPPORTUNITY: Crow's Theatre
Are you planning a performance? Are you looking for a great space for your class or workshop? The new Crow's Theatre performance facility is booking rentals. Conveniently located at the corner of Dundas St. East and Carlaw Ave., in the heart of Leslieville, the new home includes three dynamic space suitable for performances, events, weddings, classes, workshops, meetings and rehearsals. Visit the Crow's Theatre website HERE to learn more about the new venue and how it might suit your upcoming performance, event or workshop needs. For more information, please email margaret(at)crowstheatre(dot)com.
* CALL FOR ARTISTS: Office of Beaches-East York MP Nathaniel Erskine-Smith
The MP of Beaches-East York, Nathaniel Erskine-Smith invites artists to display their artwork in his constituency office at 1902 Danforth Avenue (btwn Woodbine & Coxwell). The wall space is as follows (ideally one artist per room): Meeting room A: 1st wall (100"l x 60"h); 2nd wall (80"l x 60"h); 3rd wall (88"l x 60"h). Meeting Room B: 4th wall (88"l x 60"h); 5th wall (88"l x 60"h); and addition wall space, max size of 30"l x 30"h. No commission will be taken for sale of the work. Artists are encouraged to provide a price card with contact information, local art group (if applicable), and price of the piece. Art work will be displayed in meeting rooms where clients, community members, and leaders will be invited on a regular basis. Artists are asked to send pictures of their work via email for a preview (with sizes), though there is no jury selection process. Artwork will be displayed in quarterly installments (3 month period), and is to be hung and removed by the artist. Artists are welcome to visit the space beforehand, and are invited to contact the office to make arrangements for displaying their work. Call Diana at 416-432-2572 or email: Nathaniel.Erskine-Smith.C1(at)parl.gc(dot)ca
* CALL FOR PARTICIPANTS: Young People Making a Living in the Creative Industries
The Young People Making a Living in the Creative Industries project will assess the incomes streams and revenues of youth creative workers, focusing on the transition period between youth leaving formal education and becoming established in the field of creative work. If you are 18-35 years old, working in a creative field either for yourself or for a creative industries company, supporting yourself strictly from creative work or complimenting your income with outside work, and are not enrolled in full-time studies, you are invited to volunteer in this study of young people making a living in the creative industries. Click HERE for more info and to take the survey.
* CALL FOR PITCHES: Flying Pony Gallery
Flying Pony Gallery would like to hear from emerging and mid-career artists specializing in painting who are interested in having a show during 2015 at Flying Pony Gallery, located at 1481 Gerrard St E. in Toronto. An artist run space with very artist-friendly rates, the gallery is looking for new work to show in two large well-lit gallery spaces that receive lots of traffic and are open 7 days a week. Send your creative pitch with a few images or a link to your work to: flyingponycafe(at)gmail(dot)com.
* CALL FOR ARTISTS: The Kingston Social
The Kingston Social is a gallery/creative workspace with an ongoing call to artists for various group and solo exhibitions, seeking both emerging and professional artists in any medium, for individual work as well as larger show ideas. Rental opportunities are also offered. If you are interested in running creative workshops, lessons or events in a beautiful gallery setting with kitchen facilities at affordable rates, visit www.thekingstonsocial.com. Please send all inquiries and submissions to: tracey(at)thekingstonsocial(dot)com.
* EXHIBIT OPPORTUNITY: Art Exhibit Space (Toronto Public Library)
Toronto Public Library is pleased to provide space for art exhibits which reflect the diverse cultural interests of the City and its neighbourhoods. Artists are invited to submit their work for exhibition at one of 12 possible Toronto Public Library branch locations. An Art Selection Committee considers works in all media, including photography (no sculptures). Selected artists are given one-month showings. Preference will be given to exhibitors who live or work in the City of Toronto. Click HERE for full details.
* EXHIBIT OPPORTUNITY: Pape Danforth Library
Pape Danforth Library has exhibit space available for artists, including a series of picture rails on the main floor, in the stairwell, and on the second floor. Interested artists should complete the application/insurance form (link below), show a sample of their work to branch contact (jpeg or actual work), and be responsible for the physical work of hanging and removing their exhibit. Artists are welcome to include an artists profile/statement, contact and price information as part of the exhibit, and leave cards for members of the public to pick up. The exhibit time frame is generally 1 month, and there is a small fee of $20 + HST. There is currently availability in 2016. Click for a PDF of the Pape Danforth Library – Exhibit Contract application form. For further information please contact Pat Biros pbiros(at)torontopubliclibrary(dot)ca at the Pape Danforth Library at 416-393-7728.
* CALL FOR ARTISTS: Toronto Digital Projects
Toronto Digital Projects is a new curated virtual gallery for emerging artists creating digital paintings, animations, videos, GIFs and other forms of Post-Internet art.
https://www.torontodigitalprojects.com/about
* FUNDING/GRANTS: Ontario Arts Council Theatre Creators' Reserve
http://www.arts.on.ca/page86.aspx
* FUNDING: The Arts Access Fund
Scholarships are offered in visual art, drama, music, dance and film making. Candidates must be between the ages of 6 to 19 years.
http://www.artsaccessfund.org
* Display at AboveGround Art Supplies' Beach Location Showcase
No fees, take no commissions on sold work, and receive selected artists' discount coupons for participating. Contact: beach(at)abovegroundartsupplies.com / 416 694 0440
https://www.abovegroundartsupplies.com

* Making Space for Culture 
As a part of the City of Toronto's ongoing initiative to make data public and available, artists and art organizations are encouraged to check out the Making Space for Culture project's data. The info has been added to City of Toronto's open data website, and as well is displayed on a map (choose display option "Recreation" and select "Cultural Spaces").
* SpaceFinder Toronto 
The SpaceFinder Toronto project connects and matches up people who are looking for space and people who have space to rent. The service is free to use.
---
OTHER GREAT RESOURCES

 
Find artist calls, job postings, grants, networking events, workshops, and more information, resources, and opportunities for artists:
* Akimbo
* Canada Council for the Arts
* City of Toronto – Arts Services
* City of Toronto – Music
* Live With Culture
* Neighbourhood Arts Network
* Ontario Arts Council
* The TAPA Blog
* Toronto Arts Council
* Toronto Arts Foundation
* Toronto Arts Online
* Work In Culture
---
---
Check out our CALENDAR OF EVENTS, and visit our ARTIST OPPORTUNITIES page for artist calls, job postings, funding opportunities, and more.
Join our ARTS-E-NEWS email list to receive monthly updates and highlights of east end ongoings and opportunities for artists.
Please SHARE and let US know what's going on with you too! Drop us a line and CONNECT if you have an artistic east end event that we can help support and share information about.
Follow us on FACEBOOK, TWITTER, and INSTAGRAM.