A list of local resources in Toronto's creative east end, including galleries, studios, theatre, parks, and arts camps.
Explore our calendar of EAST END EVENTS and visit our ARTIST OPPORTUNITIES page for artist calls, job postings, funding opportunities, and more.
Join our ARTS-E-NEWS email list to receive monthly updates and highlights of east end ongoings and opportunities for artists.
---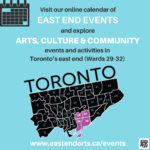 Calendar of East End Events
Find out about arts-related and community events happening in Toronto's east end (Wards 29-32).
Submit your event: If you have a free event happening in the east end that you'd like us to add to the calendar, please use our online East End Events Submission Form or send the details to web@eastendarts.ca.
---
Arts Education & Classes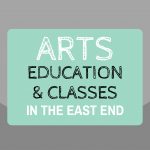 Explore a list of Arts Education & Classes in the east end to find local options in all different artistic disciplines. Expand your creativity and learn something new!
---
Galleries & Studios in the East End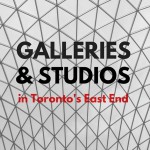 You may be surprised at the number and variety of creative spaces in east Toronto. Here are just some of the places you can find exhibitions, art shows, workshops, and classes throughout the year.
---
Theatre in the East End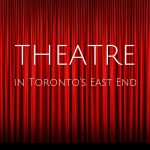 Toronto's east end is home to many theatre and performance groups, offering creative opportunities on and off the stage. Find performances, classes, workshops, arts spaces, and more in this list.
---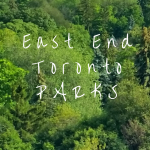 East End Toronto Parks
The east end has 109 parks and parkettes in Wards 29-32, bringing residents, visitors, and communities together outdoors in green spaces through all seasons.
---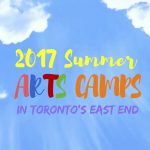 2017 Summer Arts Camps in Toronto's East End
Explore a list of creative local Summer Arts Camps in Toronto's east end. Children will share artistic experiences, make new friends, and express their creativity through these fun summer programs.
---
A list of local options for Spring Break Arts Camps in Toronto's east end, with creative programs for children that encourage exploration through performance, imagination, artistic expression – and fun
---
---
Please SHARE and let US know what's going on with you too! Drop us a line and CONNECT if you have an artistic east end event that we can help support and share information about.