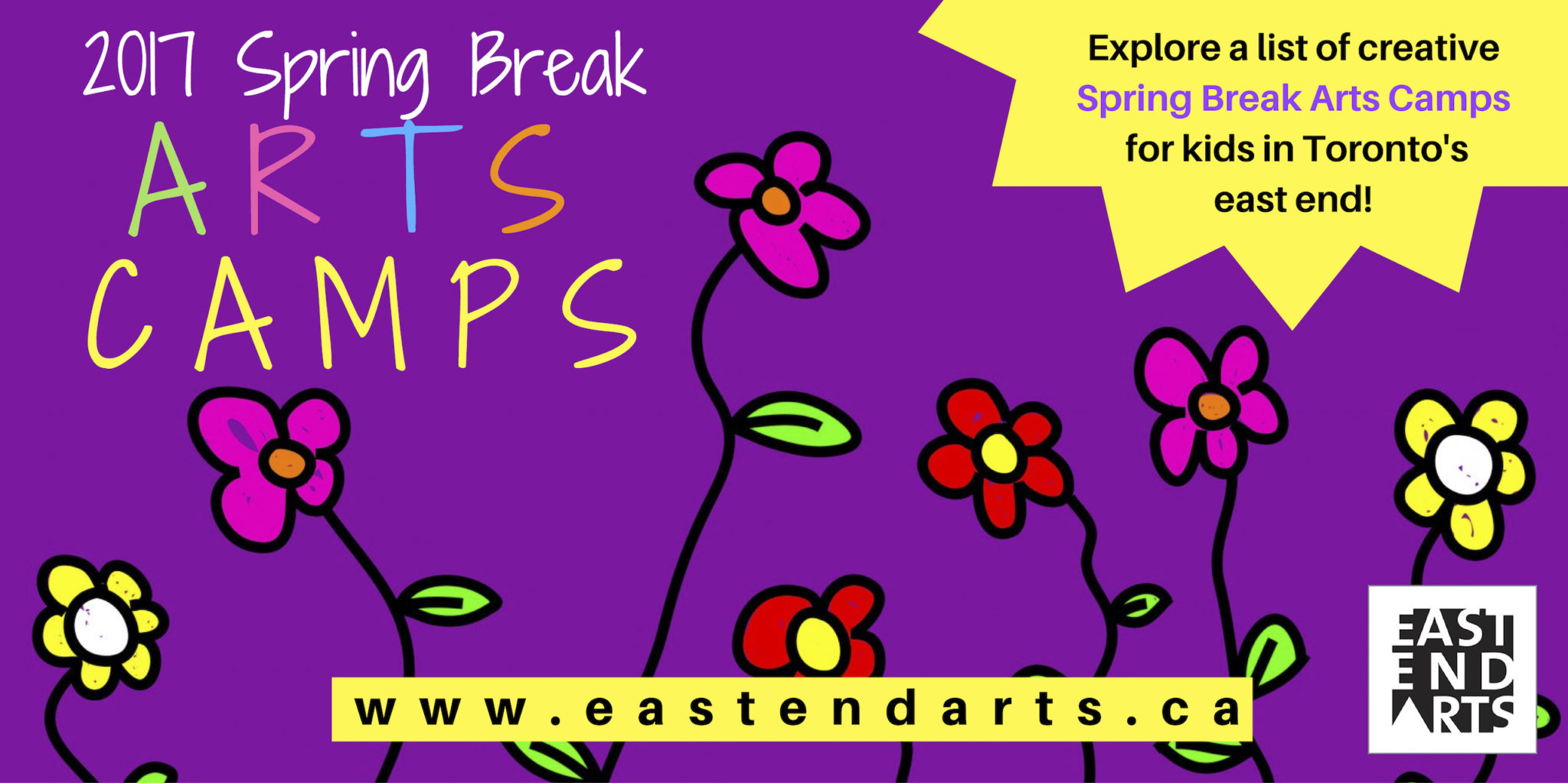 A list of local options for Spring Break Arts Camps in Toronto's east end, with creative programs for children that encourage exploration through performance, imagination, artistic expression – and fun!
Click on the links below for further details about each camp experience.
---
4Cats Arts Studio in the Beaches – 2138A Queen Street East
4Cats Arts Studio in the Beaches runs camps and workshops for kids during Spring Break with themes including: Jurassic Camp, Enchanted Fairy Camp, 8-Bit Camp, and Fluffle of Bunnies Camp.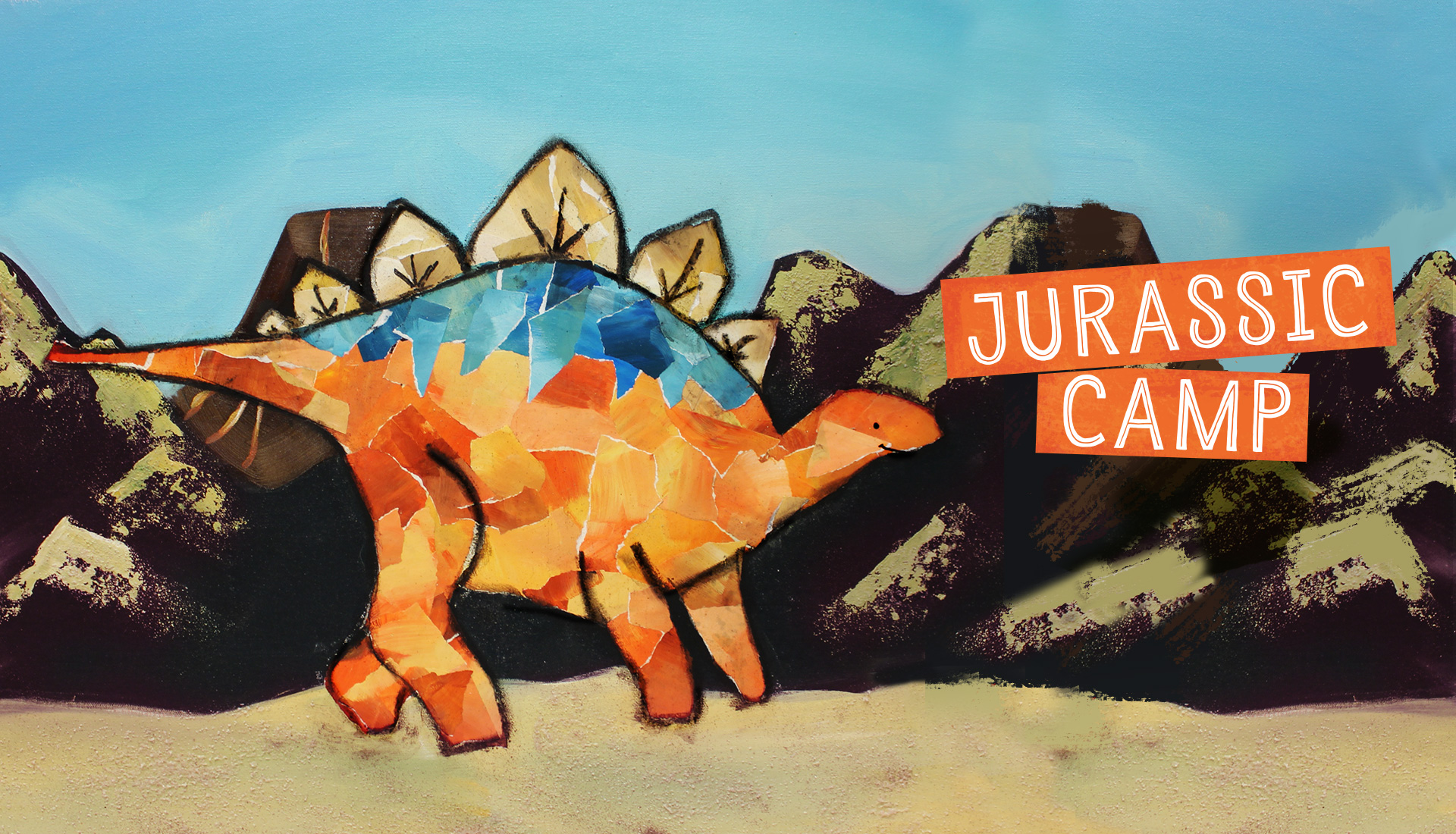 ---
ArtCave – 155 Lamb Avenue
March Break Art Camp activities for kids include programs for children ages 5-12 years old. Lots of 2D and 3D art, drawing and painting, cartooning, sculpture, and outdoor fun.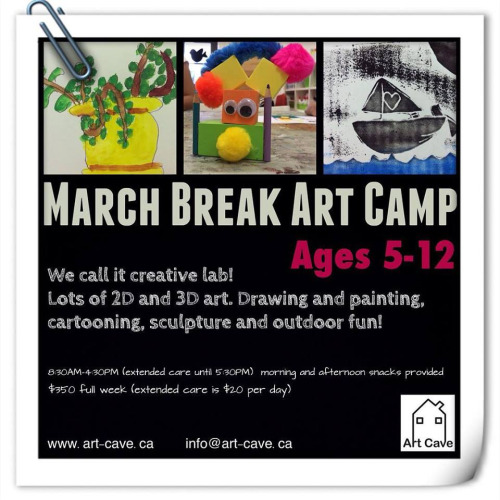 ---
Bricks 4 Kidz – Various locations (including Cresswell Dance Academy & Cedar Ridge Creative Centre)
Camps are offered throughout the year and found in either one day or week-long formats. All materials are supplied, and kids will combine learning and fun as they are engaged in STEM camps during Spring Break including The Science and Engineering of Minecraft with Jr. Robotics, Star Wars/Space Camp with Jr. Robotics, and more.
---
Cedar Ridge Creative Centre – 225 Confederation Drive
March Break workshops for kids ages 7-13 at Cedar Ridge Creative Centre include demonstrations on drawing characters in anime, action or humour styles, as well and pen and ink techniques with "Cartooning"; portraiture basics and painting techniques with "My Hero Portraits"; and "Bricks4Kidz Jr. Robotics", an introduction into the world of computer programming and robotics that will ignite imaginations.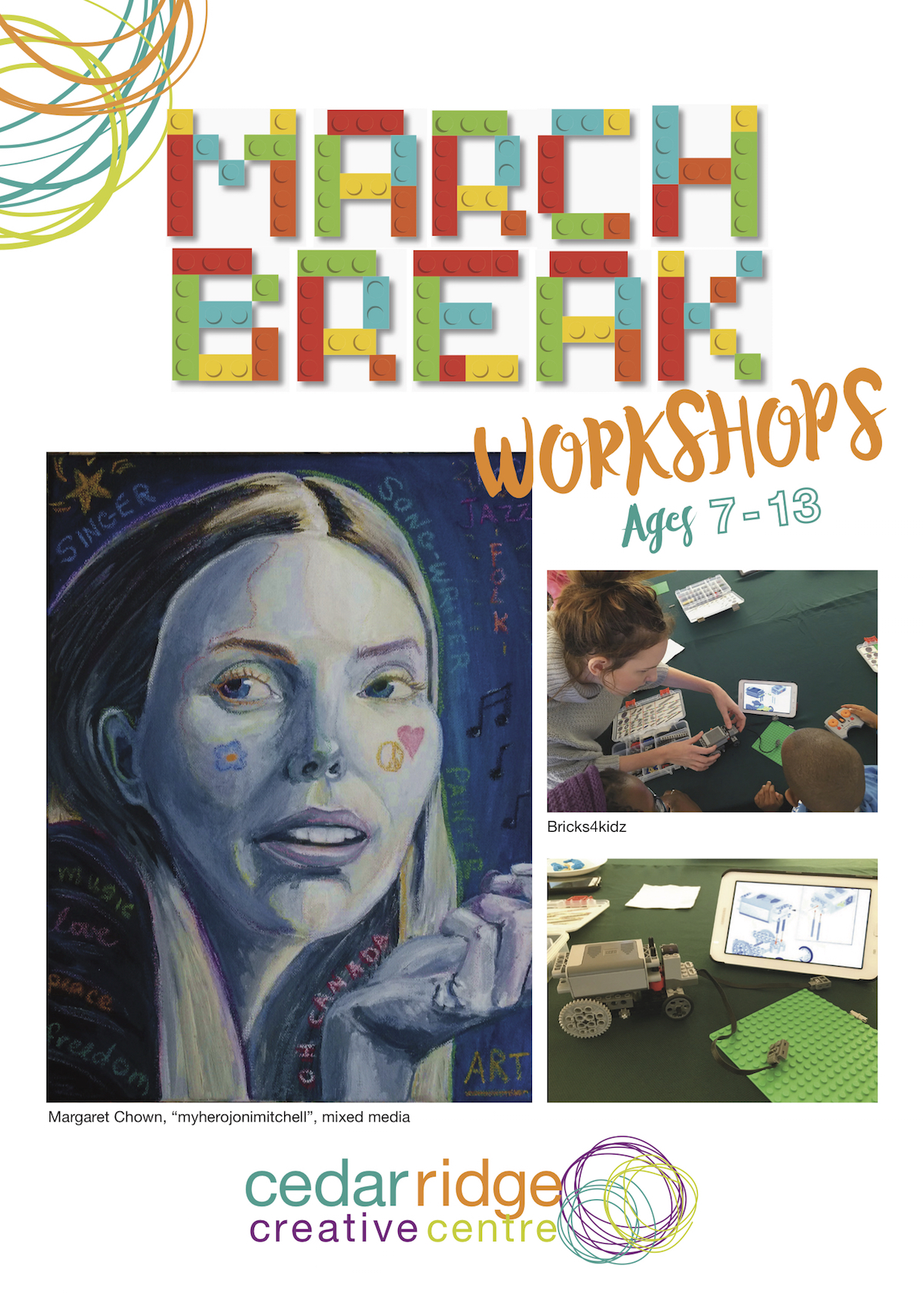 ---
The Circus Academy – 1300 Gerrard Street East
The March Break Circus Camp is an introduction to the magic of circus under the guidance of professional circus performers. Kids try their hand at juggling, tumbling, clowning & aerial acrobatics, circus-themed crafts & more. A great confidence-building childhood experience!

---
City of Toronto – Various locations
Toronto Parks, Forestry & Recreation offers high quality camps designed to give children a fun-filled, action-packed, safe summer. Campers will be involved in arts and crafts, games, sports, special events, outdoor activities, and local trips.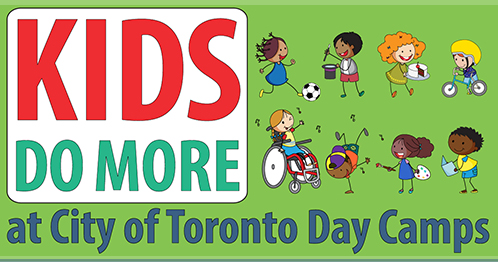 ---
Cornerstone Studio – 1519 Gerrard Street East
The Cornerstone Studio is offering a half and full day of Visual Arts, Music, Theatre and Dance for March Break for children age groups 4-6 and 7+. Students discover new ways express themselves physically through a broad range of dance styles including: Ballet, Jazz, Contemporary, Hip Hop, House, Breakdance, Afro-Caribbean, Improvisation, and composition.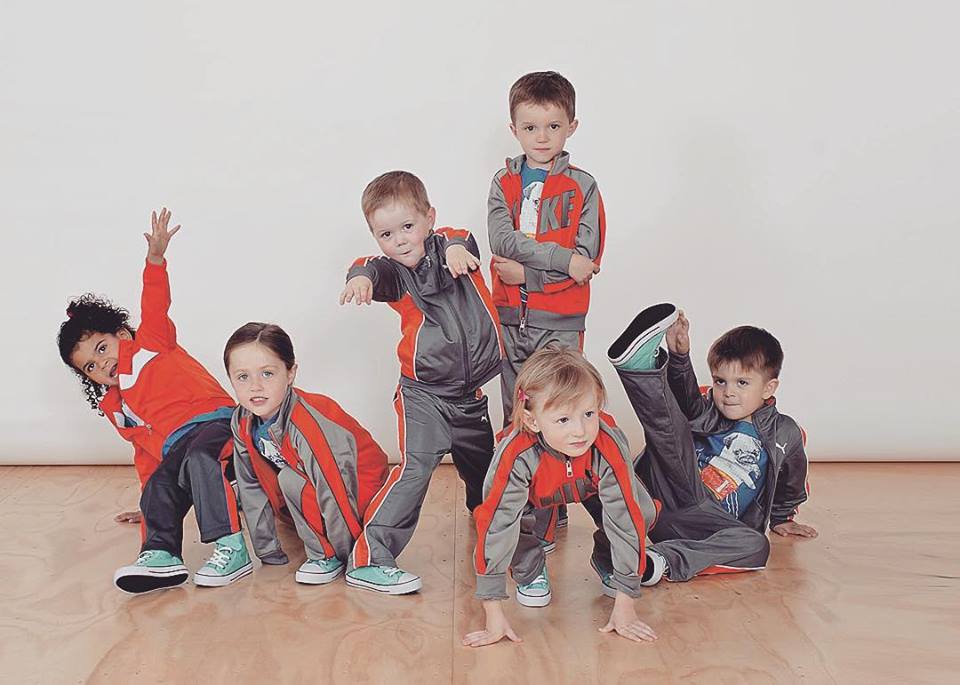 ---
Crow's Theatre – 345 Carlaw Avenue
Crow's Theatre has partnered with Shakespearience Performing Arts to offer a fun and dynamic March Break camp for kids 12-18 yrs old. This camp will encourage creativity, boost self-confidence, and strengthen communication and social skills. The week will include workshops in voice, movement, improvisation and stage combat, all led by professional theatre artists. The workshops will culminate in the rehearsal of scene studies, to be presented to friends and families at the end of the week.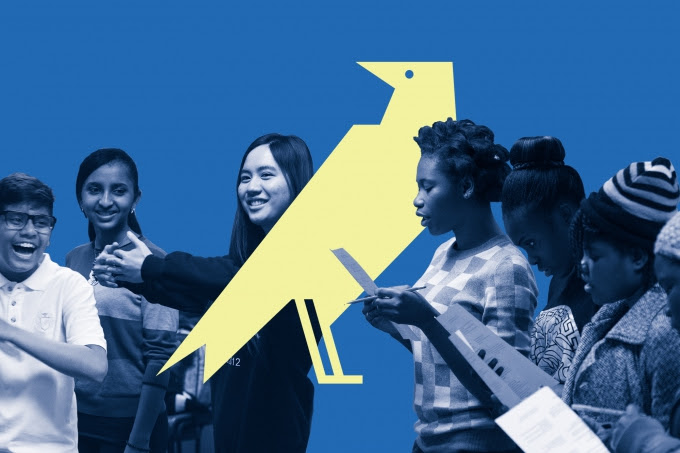 ---
East York Gymnastics Club – 6 Dohme Avenue
The East York Gymnastics Club has been in operation since 1949, teaching gymnastics at all levels of performance and offering recreational gymnastics and trampoline programs. Campers ages 3 years and up will participate in gymnastics, trampoline, and arts & crafts.

---
Joy of Dance – 95 Danforth Avenue, 3rd Floor
Joy of Dance offers March Break Dance Camp for kids and teens from March 13-17. Camps include Hip Hop, Street Jazz, Ballet, Jazz, Musical Theatre, Bollywood, and more.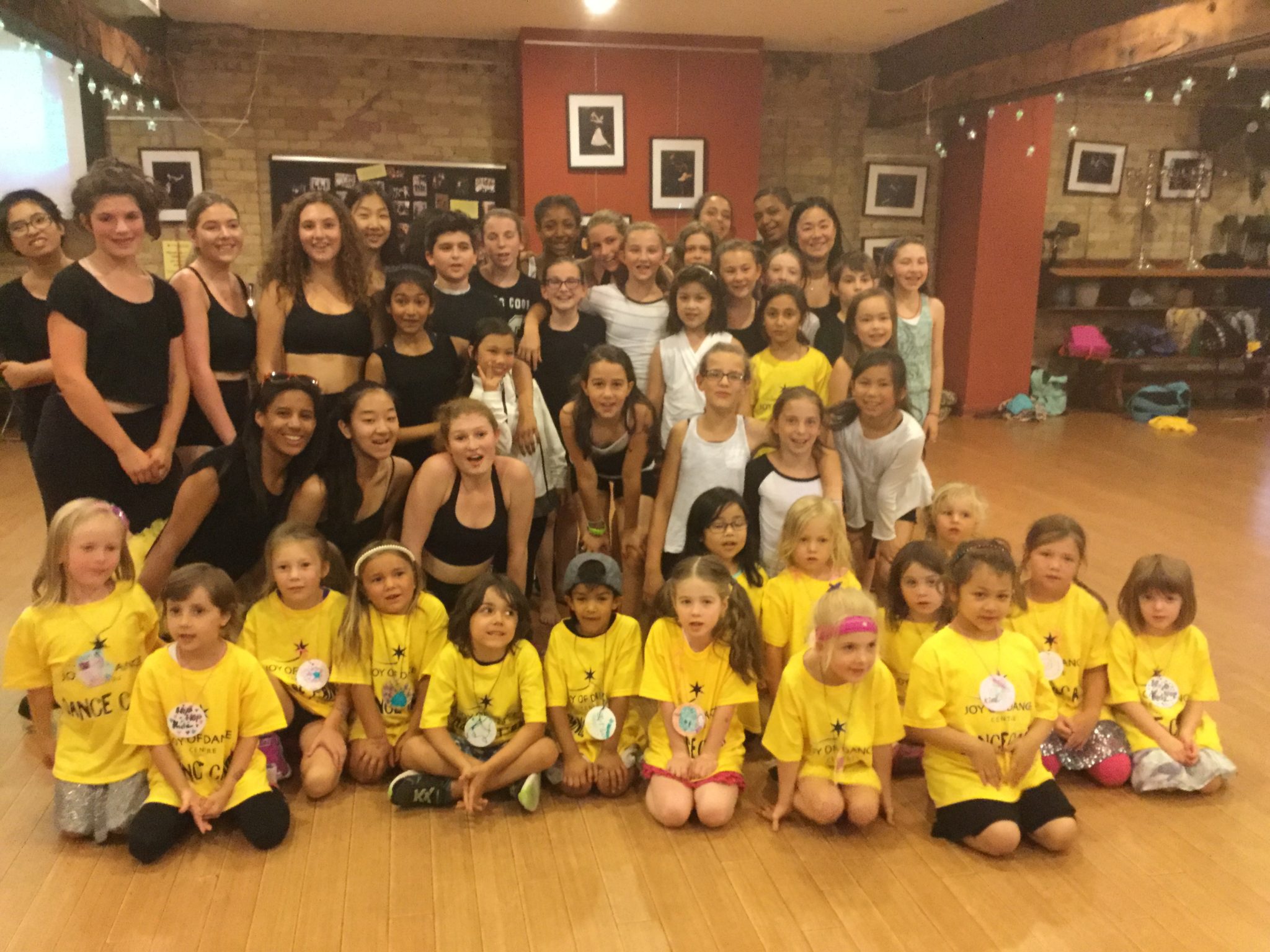 ---
Leslieville School of Dance – Camp Monarch – 20 Leslie Street, Suite 212
March Break Camp takes place March 13-17 for children aged 4-10 years old. Each day at Camp offers classes in Music, Art, Dance, and Yoga, as well as plenty of free-play time outdoors.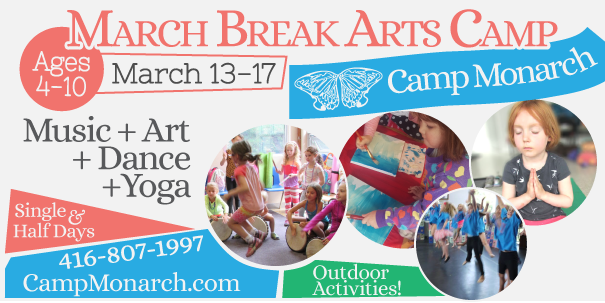 ---
LucSculpture School and Studios – 633 Danforth Avenue
March Break Art Camps at LucSculpture allow children aged 6-13 to explore their creativity through activities such as pastel, collage, painting, clay, craft, dance, theatre, pottery, and more. Most activities can be taught in French. Full and half day camps available.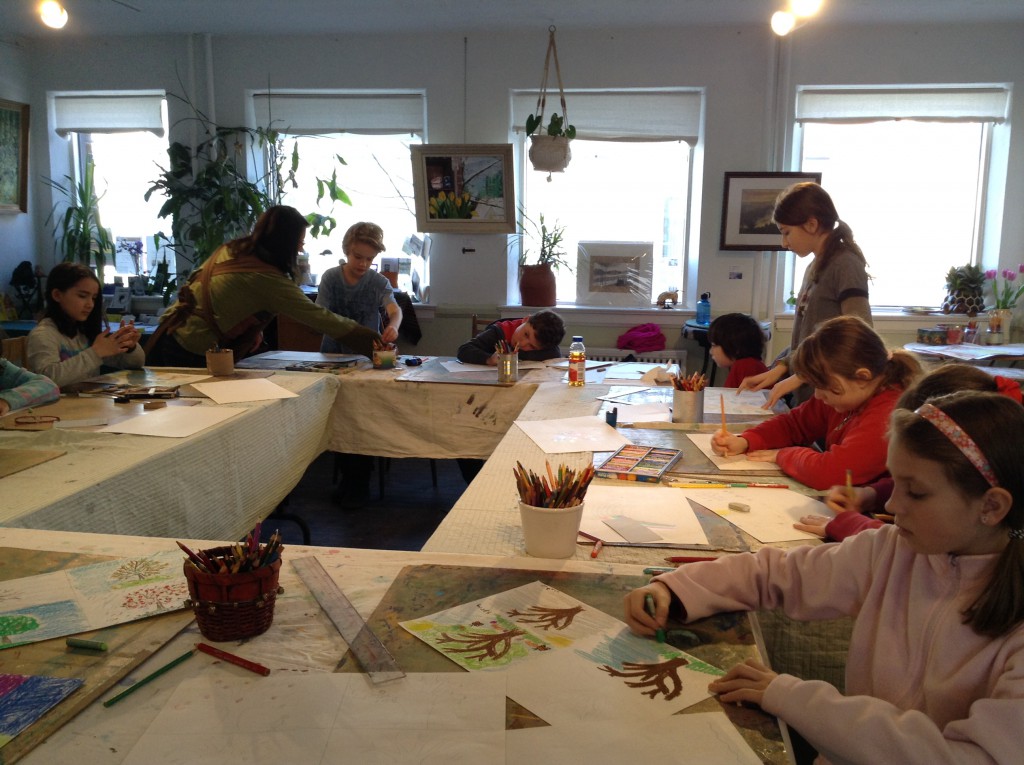 ---
My Art Lab – 66 Lewis Street
My Artlab's March Break Camp from March 13-17, is for children ages 5-7 and 8-11. Children will participate in creative activities including collage, drawing, painting, large scale painting, 3D models, dioramas, and installations, as well as fun outdoor games and activities. On the last day of camp children will present a small performance about a city street for parents.

---
Ontario Science Centre – 770 Don Mills Road
ARRRR you ready to unlock the science secrets behind the life of a pirate? Campers 5-12 years old will design a sea-worthy ship, take aim with a pop bottle cannon and lead your first mates to hidden treasure as you uncover just how much science and engineering it takes to rule the high seas.

---
Pegasus Studios – 361 Glebeholme Boulevard
Pegasus Studios is a community arts education centre in East Toronto teaching the art of discovery through Dance, Visual Arts, Music, and Drama for children of all ages. Camps are offered with five fun themes to choose from: Backyard Beach Party, Jazzy Jungle, Frozen Friends Adventure, Hoppin' to the Beat, and Campfire Frolic.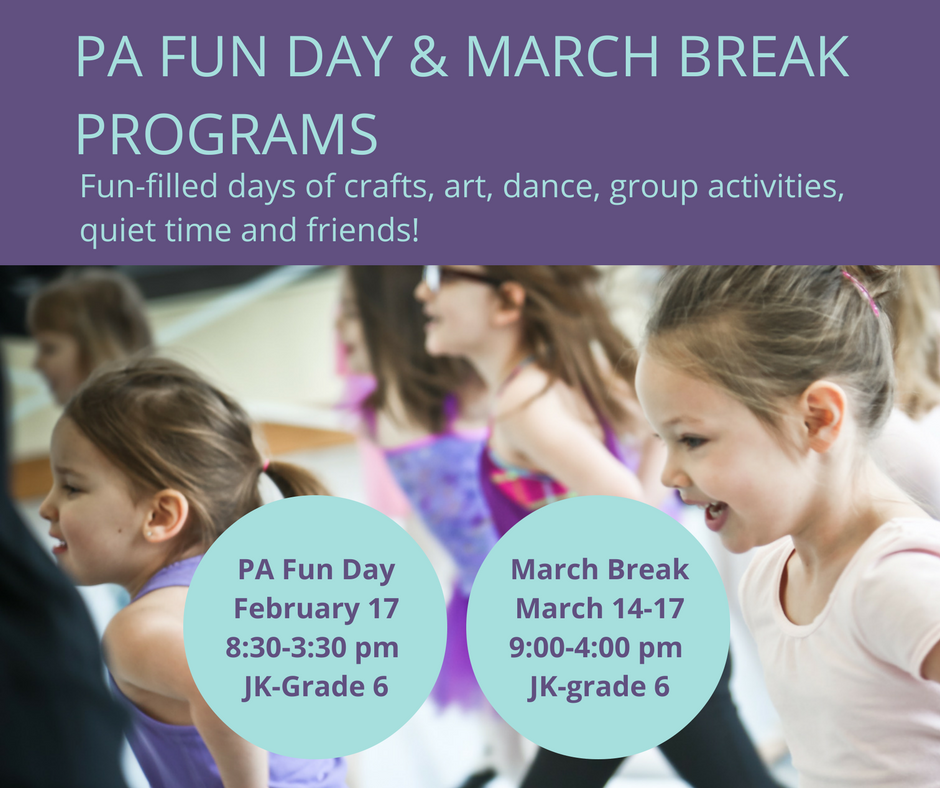 ---
Red Sandcastle Theatre – 922 Queen Street East
The Red Sandcastle Theatre offers a fun and unique March Break Camp: the Play in a Week camp, at which the troupe of kids creates a brand new play. Will it be a comedy? Or a tragedy? A musical? Anything is possible!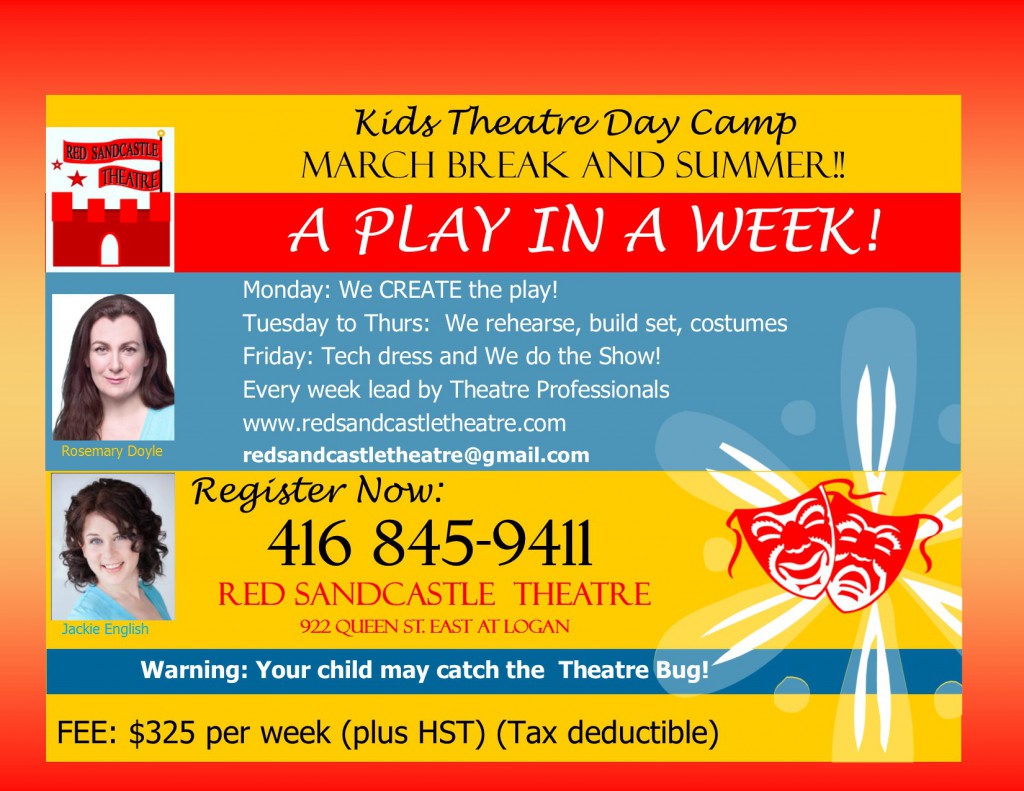 ---
Rosetta School of Visual Arts – 1580 Kingston Road
Rosetta campers will explore the world of art inspired by the natural world at March Break Art Camp. Experimenting with a variety of art materials to learn new skills and techniques in Rosetta's process-based studio, each camper will be encouraged to explore their own creativity and originality, with plenty of one-on-one time with their instructor.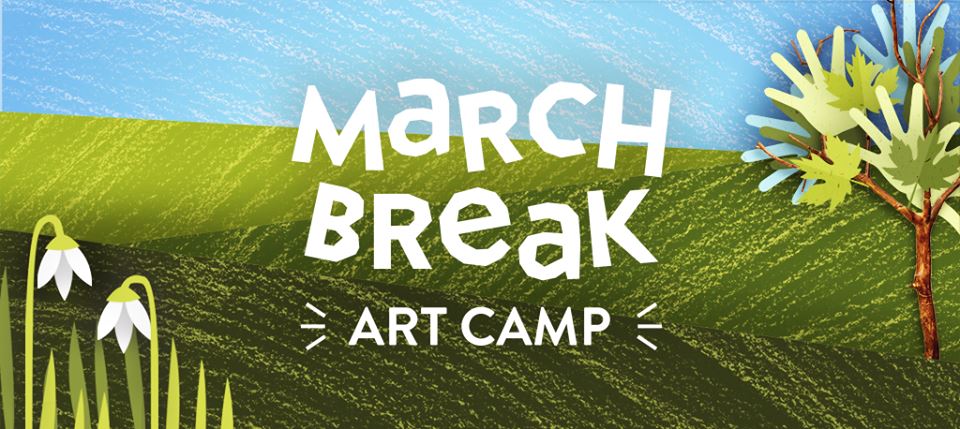 ---
Scarborough Music Theatre – 51 Estate Drive
The Scarborough Music Theatre March Break Camp is five fun days for kids ages 9-14. Activities will include singing, dancing, drama, and games.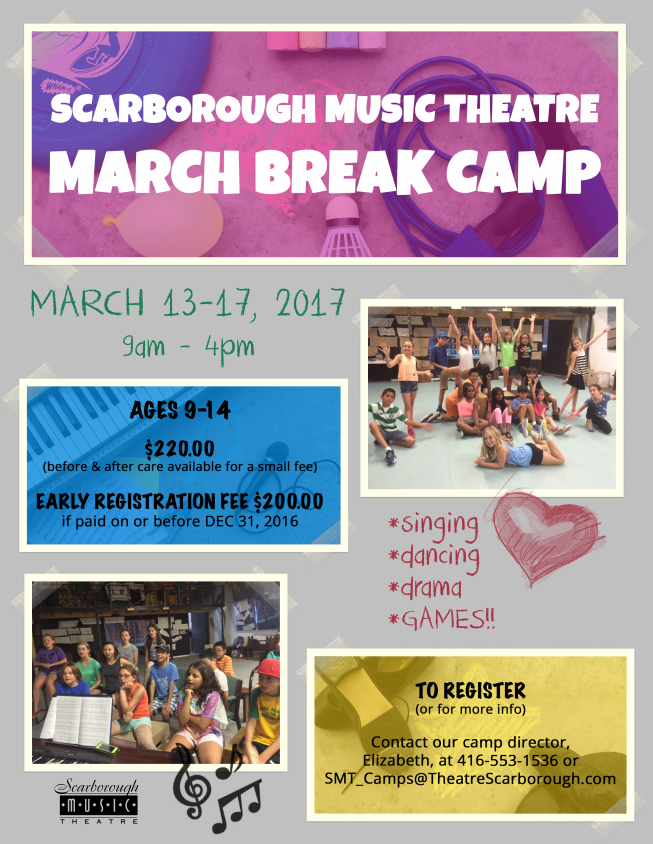 ---
Toronto's Historic Sites – Various Locations
Explore March Break Camps at Toronto's Historic Sites, including Colborne Lodge, Gibson House Museum, Scarborough Museum, and Spadina Museum.

---
Toronto Tool Library – 1803 Danforth Avenue
Toronto Tool Library's TTL Kids program offers an exciting array of workshops for Young Makers covering all the basis: electronics, 3D printing, laser cutting, woodworking, and robotics. Register your Young Maker for the whole week or choose workshops individually.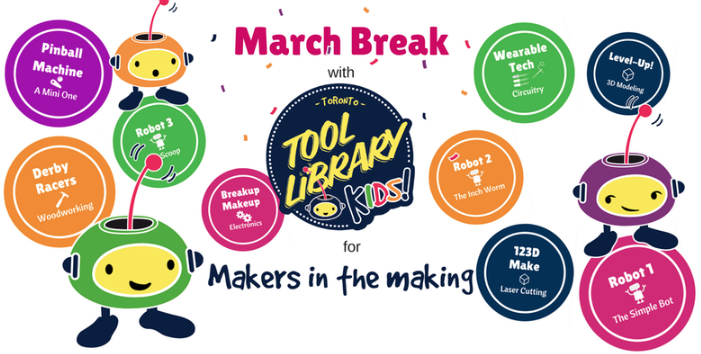 ---
YMCA – Various locations
At YMCA March Break Day Camps, children aged 4-12 years will enjoy a variety of fun, interactive and co-operative activities each day. Activities will vary based on locations and the interests of the children, and may include sports, arts and crafts, drama, and outdoor activities.

---
Are we missing a 2017 Spring Break Arts Camp in the east end? Please send us an email with the details to: web(at)eastendarts(dot)ca so we can include it in the list.